Monday huh?
Where the hell did that come from?
I am not the biggest fan of Mondays but then again who really is?
I was a busy little beaver this weekend. I FINALLY got to redecorating my living room. It was a long time coming and since I got my floors done last month I figured now was as good a time as any to redecorate right?
RIGHT!
How about some pictures?
Before…
I know it is kinda scary looking but believe me the improvements are amazing!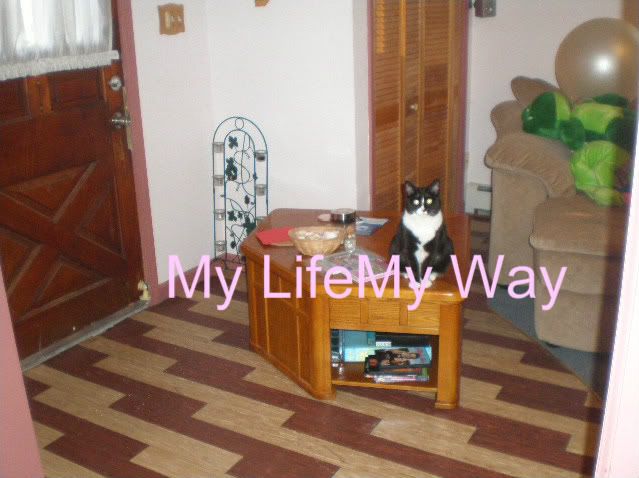 Take notice of the door too…
AFTER…
The floors were done about a month ago and the rest of it I did this weekend.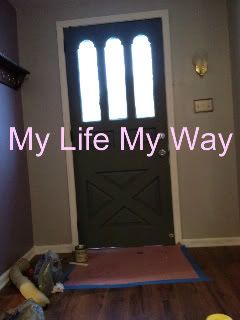 Check out that door! 
So yeah like I said I was a busy beaver this weekend! I started to paint Friday when I got home from work around 2pm and didn't call it a night till about 1:30AM! Then I was back at it again on Saturday from 10am when the furniture was delivered till about 6pm. 
Saturday I did take a little break to run to Lowes to pick up some odds and ends that I NEEDED. Well what I thought was gonna be like a $50 to $100 dollar trip turned into a $400 dollar trip! SERIOUSLY!?!? I wanted to die! 
Then check this crap out! So ya see the ugly couch that is in the before picture? Well that is a 4pc sectional sofa with a pull out bed, chase and a recliner right? Well I put that bad boy out on my lawn with a "FREE" sign on it on Wednesday night. Thursday morning the chase was gone no big deal! Thursday it was there all day no one touched it. Friday I get home from work and I notice that it was still there. No big deal I figured if it didn't get picked up Friday I would call the garbage company and arrange for them to come and get it right? Well apparently some jerk off in my neighborhood decided that they needed to call the cops and log a complaint. REALLY?!?! So I am home filling in the holes on the wall getting ready to paint when all of a sudden there is knock at my door and there is a cop tellin' me that if I don't get rid of the couch that they were gonna fine me. WHAT??? Then he said that someone called and complained that the couch has been out on the lawn for a week. NOT SO MUCH! I politely told the cop that it in fact only out there for a few days but thank you for letting me know. So I called my mom and she said that she would stop by and pick it up and take it to the dump on her way home right? Well no sooner do I get off the phone with her does someone pull up in a U-Hall van and take it away. Thank you very much! Saved me $75 bucks in the long run of trying to get rid of it.
Sunday I was so beat from everything that I went to church at noon and then came home put on sweats and parked my butt on the couch for the ENTIRE day. It was bliss! 
How was everyones weekend?