Today I am linking up with
Ashley
for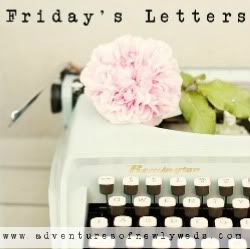 DEAR VACATION WEEK…Where the heck did you go? I had so much fun with you this week I don't want it to end. I guess what saying "All good things must come to an end" is true huh? Who would have thunk it?
DEAR GRAM…You have only been gone 2 weeks but it feels so much longer. What I would give to hear your voice just one more time. What I would give to give you a hug again. I will always remember your last words to me "I love you too." I wish I could bring you back.
DEAR WORK…I am so not looking forward to seeing you on Monday. I will just leave it at that. K?
DEAR LITTLE RED HONDA…It's been a good 3.5 years but sadly my friend I am sick of you. Believe me it is ME not you. You will be so much happier with someone else I promise. More to come on this in a later post!
DEAR WEEKEND…PLEASE PLEASE PLEASE go SLLLLLOOOOOOOWWWWWWLLLLLLYYYYY. I want to enjoy what little bit of my vacation I have left. K? Thanks!