So last Sunday the 22nd I was able to cross something else off my
Bucket List
. I successfully ran a 8K and let me just add that it was not just ANY 8K it was my
FRIST EVER
8K! I ran the Rutgers Unite 8K and let me tell you it was AWESOME!
There were over 4500 people there. Nuts I tell ya!
We were gonna run the half marathon but we got derailed from our training so for our own safety we decided that we would drop down to the 8K and let me tell you it was the correct decision.
I woke up the day of the race and looked out the window and was so happy that the rain had held off. We were forecasted for 100% chance of rain. Bummer. You can only guess how happy I was when I saw that yes it was overcast but no rain. We decided that we would go and run the race.
I can honestly say that I am very pleased with my results as well. I have never run a 8K before so I had nothing to compare myself to.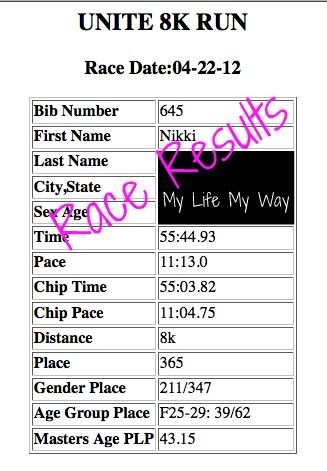 My running partner also completed his first 8K and was happy with his results.
I do not remember much about the race itself other than thinking to my self I got this! 4.97 miles. I have done plenty of 4 and 5 mile runs during my training so I knew that I could do the 8K no problem. I remember during the race thinking to myself I am so glad that I decided to drop down to the 8K. I also remember coming down the last .25 mile of the race and really pushing myself to finish hard. As I came across the finish line I saw my mom there cheering me on. I was so happy! My mom took some more pictures and had to go because she left her husband with the truck double parked somewhere. I can not wait to get the pictures from her! But for now here are the only pictures I have from the day thanks to my phone!
Again overall we are both happy with how things ended. We want to plan and train to do another 8K and then move onto a 10K.
I am super excited I am able to cross something off my
Bucket List
. Whats next?
What have you crossed off YOUR Bucket List?