Thankfully we have all made it to Friday. Not just any Friday but Memorial Day Weekend Friday! Link up with
Ashley
for Friday's Letters.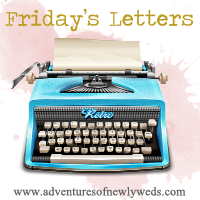 Dear Rain…REALLY?!?! Enough already. Please go away for this holiday weekend. K? Thanks!
Dear Holiday Weekend…WELCOME TO MY WORLD! I hope we have a good time. Lets hope said rain goes away so we can enjoy each other.
Dear Friend Who Needs A Wake Up Call…It's called life and you need to realize this. You also need to get over whatever issue you have with me. It's old and not becoming.
Dear Work…I really do not like you but I do like the paycheck I get on Thursdays so I have to keep you around.
Dear BodyCombay 52…I am not ready for you. You showed up in my mailbox the other day and lets be real you are not gonna be launched till sometime in July so you will have to patiently wait till I am done with my love affair with BC 51. Sorry.
Dear Drivers…Please Please Please for my sanity and yours LEARN TO SPEAK ENGLISH! Also give up the excuse "This is my frist time here." I know for a fact that it is not.
Dear Rylie…You are so so so lucky you are cute. What you did to my North Face jacket was totally unacceptable.
Dear Unofficial Start to Summer…I love you. I am so so happy to see you!
Dear New Blog Friends…WELCOME! Gotta question please do not hesitate to ask it!