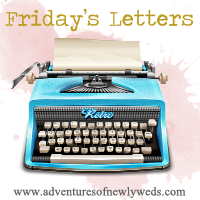 Wanna play along? Link up with Ashley!
DEAR FRIDAY
Thank you so so much for showing your face again! I really like when you come around because that means I get two beautiful days of not having to get up to an alarm! 
DEAR WEEKEND
I am so glad you are here. I am ready for you! Right now I have nothing planned but sometimes that makes for the best weekends! 
DEAR WEATHER
please stay promising! I would LOVE to go to the lake again one day this weekend. 
DEAR BODYCOMBAT
you will be the death of me. But I have to say that I am super excited that you are now going to be offered as a in home option for all of you who can't or dont want to join a gym.
DEAR BANK ACCOUNT
can you please fill yourself and keep yourself full? Thanks! 
DEAR FOLLOWERS
I LOVE EACH AND EVERYONE OF YOU! Seriously ya'll rock!