So every now and then I like to share a recipe or two that I like and today I have not one but two for you!
Are you excited? You should be!
Today I am going to give you something for breakfast, dinner and dessert! Almost a full days worth of food in one post! Over load much? Sorry!
First up?
BREAKFAST
One of my go to breakfast meals is Oatmeal.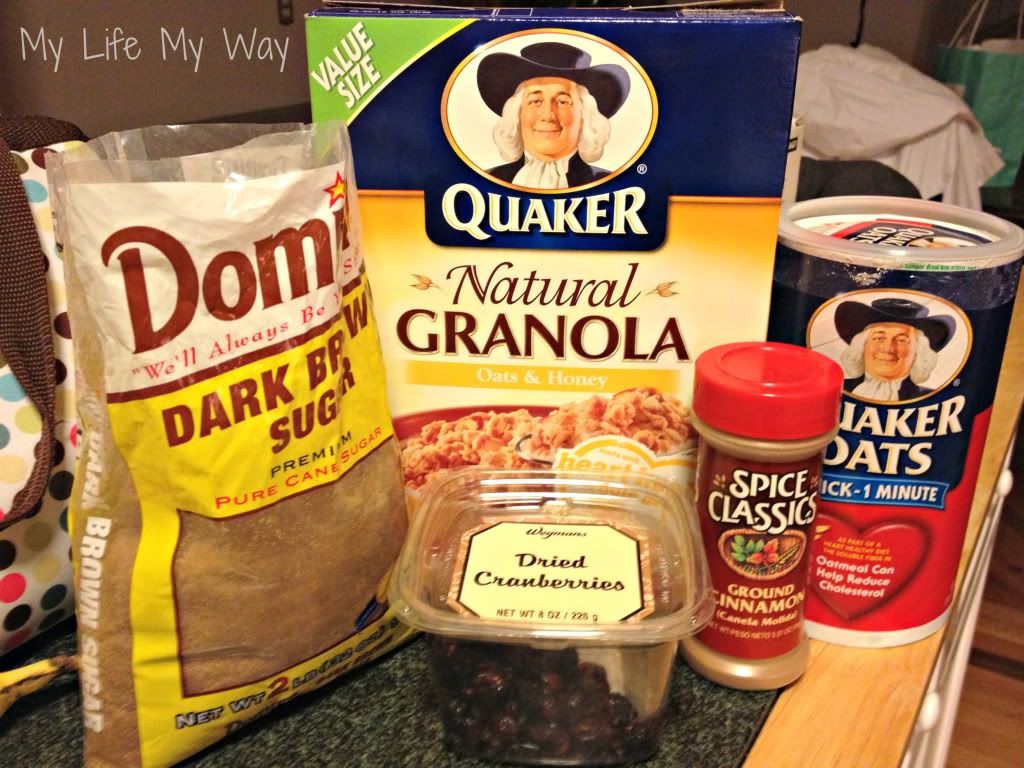 You will need…
Oats – I use the Quakers 1 Minute Oatmeal.
Granola – I use Quaker Natural Granola
Cranberries
Cinnamon
Brown Sugar
Make the oatmeal according to the directions and put it in your bowl.
Add granola, brown sugar, cinnamon and cranberries to taste.
Simple right? So yummy! Sometimes I will even get fancy and throw in a tablespoon of peanut butter for some added protein. I also always have a banana with it!
The other day I got a bug up my butt to make some Puttanesca sauce and boy oh boy was it freakin good!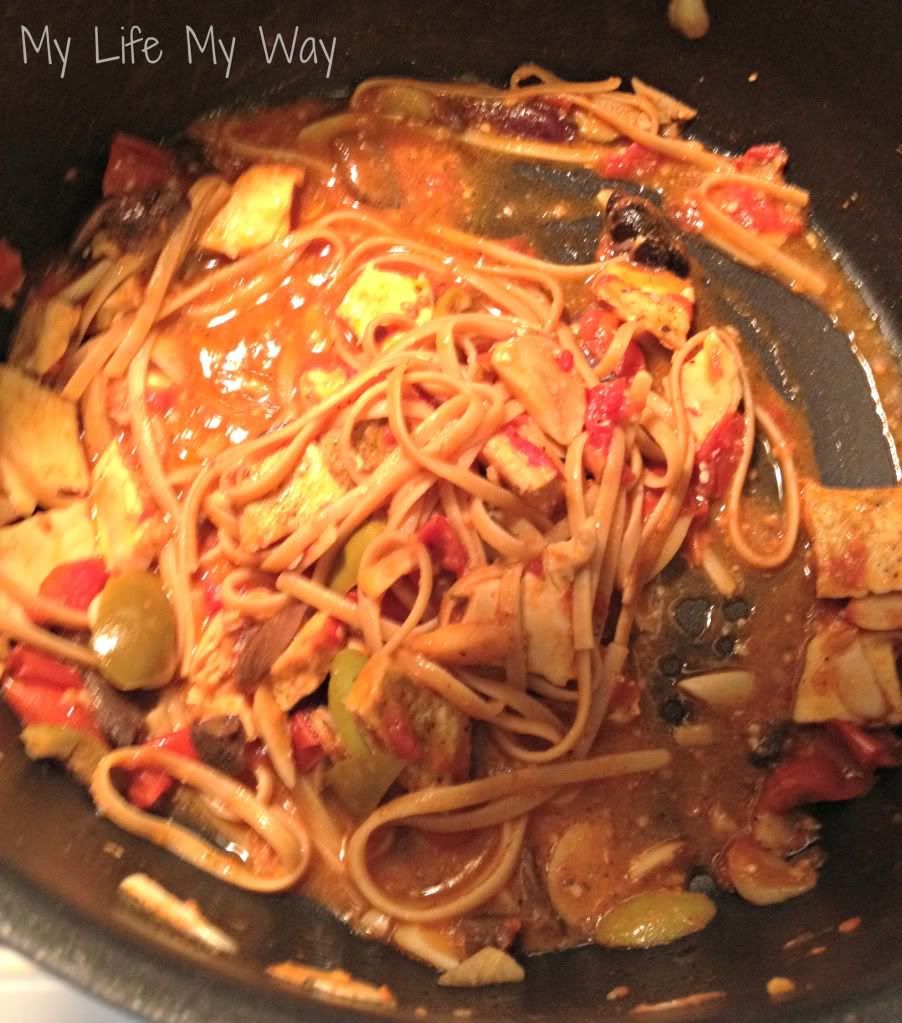 Now in true Nikki fashion I did not take pictures other than that one nor do I have EXACT measurements for how much of each ingreadient you will need but have no fear  I will still tell you how I made it!
You will need…
Olive Oil – I would say a couple of table spoons.
Greek Olives pitted and cut up – Use as much as you want.
Garlic – Again use as much as you want.
Can of Cherry Tomatos  – Just one!
Chicken Breast – I usually get the thin sliced ones. One package is enough!
Salt and Pepper to taste
Pasta – Any kinda ya want and as much as you need I used linguini it's what I had on hand. 
So put the oil in the pan and heat it up. Add the garlic and olives and sautee them for a few minutes. Dump in the can of tomatos and crush them and let that all simmer.
While that is simmering season your chicken and grill it up. Also put a pot of water on the stove and cook up your pasta. I don't think I need to tell ya'll how to do that I am 99.9% sure you can figure that one out.
When the chicken is done cut it up and throw it in the sauce while the pasta finishes cooking. Drain the pasta put it back in the pot and dump your sauce on top. Stir it up and enjoy!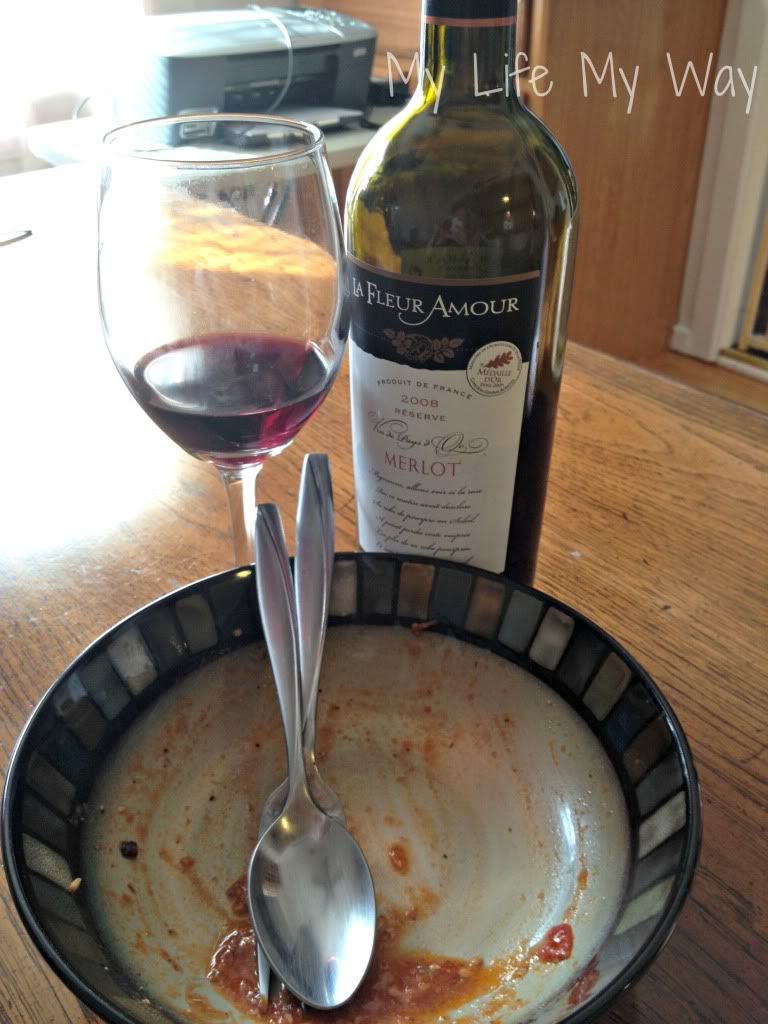 I usually have this with a nice glass of red wine. Yum yum yum!
Now because that was not enough I also decided that I wanted to make apple crisp for dessert! So I did just that as well!
Now this I have to admit I do have measurements for you! Proud? I knew you would be!
3 Pink Lady Apples peeled cored and chopped up – You really could use any apple you want that was just what I had on hand!
1/2 cup Packed Brown Sugar
1/4 cup Flour
1/2 teaspoon Cinnamon
1/4 cup Butter or Margarine
1/2 cup Old Fashion Oats
Vanilla Ice Cream
Heat the over to 350 degrees. Peel, core and chop up your apples and put them in a 9-inch GREASED baking dish.
In a medium bowl mix brown sugar, flour, cinnamon, butter and oats sprinkle over the apples.
Bake that bad boy for 30-35 minutes till golden brown.
Serve it warm with some vanilla ice cream because lets be honest thats THE ONLY WAY to enjoy it.
GO MAKE IT NOW! You can thank me later!
Yup I had that with some red wine as well. Yum!
And this my friends is what was left after…
What have you been making recently? Remember sharing is caring!