It's Sunday Fun day! Lets play along with the Sunday Social shall we?
Neely
hosts and you should totally play along!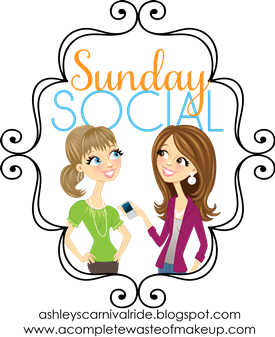 WHAT IS YOUR ALL-TIME FAVORITE SONG? Wow this is such a hard question but I would have to say Save a Horse Ride a Cowboy by Big and Rich
AND Toy Soldier by the none other than Britney Spears!
WHAT IS YOUR FAVORITE SINGER/BAND? With out a doubt BRITNEY SPEARS! Love that Bizzzzz
WHAT IS YOUR THEME SONG/SONG THAT BEST DESCRIBES YOUR LIFE? I find that a lot of the time there is always a song by Avril Lavigne that can be tied into my world. One in particular that stands out is The Best Damn Thing.
WHAT SONGS PUT YOU IN A GOOD MOOD? Anything that is upbeat and fun.
WHAT IS YOUR FAVORITE ROAD-TRIP MUSIC? Anything Britney or country make any road-trip so much easier!
WHAT SONGS ARE YOU EMBARRASSED TO ADMIT YOU LOVE? Call Me, Maybe. Ha Yeah I am ALL ABOUT this song for some reason.