I have gained a lot of new friends lately and I wanted to let ya'll get to know me more so Becky over at From Mrs. to Mama is hosting a really fun one time link up so I thought I would play along! 
And now I bring you my Blogger 411….
1. How long have you been blogging? 
And what go your started on blogging?
Has your blog changed?
 Well lets see I have been blogging for a few years only not as publicly as I do now. I started off blogging over at Xanga it was a good starting off point for me. If I wanted to keep something to myself I did. After a while I switched over to blogger. I used to blog under a different blog it was From Me 2 We Est. 2011 it was a blog about life as a newlywed when Scott and I got married. When we
divorced
I shut down my blog. I realized QUICKLY that I missed it and started this here little gem and been here now since
March 29, 2012
. SO glad I came back! My blog is still about my life only now its just me and my dogs not me my dogs and a husband. 
2. Did you go to college? If so where, and what did you study? 
I went to County College of Morris for a semester and then I got hooked up with my job and never went back. I want to go back and hope to go back one day and study forensic science! 
3. Where have you traveled?
Wow where have I traveled? I have been to many different states in the US but I have also done my share of international travel to Germany, Ukraine, Mexico, St. Lucia, St. Kitts, St. Thomas, St. Marteen, Grand Caymen, Bahamans, Barbados, Puerto Rico, Spain, just to name a few!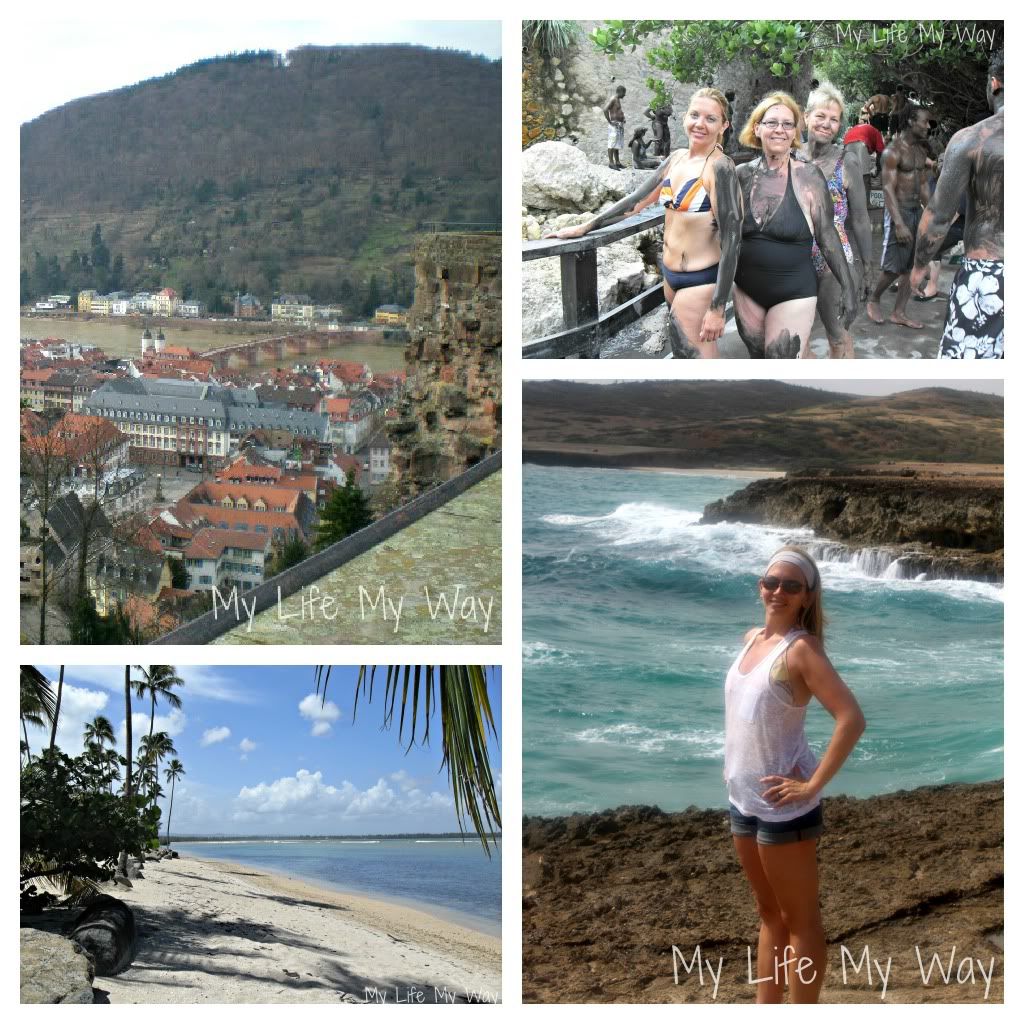 4. If you won the lottery, what would be the first thing you would buy?
My DREAM house! Although I would have to build it so it would have what I WANT. 
5. What are your 3 biggest pet peeves?
When people call me Nicole. Sorry but that is not my name! 
When people police my food. Umm Thanks but I managed to loose 130lbs on my own I do not need you telling me what I can or can't eat. K? Thanks! 
Arrogant people. Enough said!
6. What is your favorite movie?
Save the Last Dance! LOVE that movie and could watch it over and over again! 
7. What is your drink of choice; wine, beer or liquor. Or Water, Soda, Tea? 
Well when I do indulge in a adult beverage I like a nice glass of red wine. Other than that I dr
ink water like it is going outta style along with some green tea.
8. What is something you enjoy to do when you have me time?
Me time? What the heck is that? When I get that believe it or not I like to plop my behind on my couch and do ABSOLUTELY nothing! That does not happen to often so when it does I enjoy it! 
9. If you could have a $10,000 shopping spree to one store, which store would it be? 
Just 1? Target would be one for sure! There is just so much STUFF one can get at Target. Then I would say NY&Co. Along with Loft, Crate & Barrel, Pier One. 
10. Share with us an embarrassing moment of your past? Or present.
When don't I embarrass myself? Seriously? I am forever putting my foot in my mouth or doing something that one should not be doing in public. Ya know like the time I decided it was a good time to bust out my awesome dance moves in the middle of a combat track. Yeah GO NIKKI!
11. What day would you love to relive again?
Honestly the day I turned 10. I was so super excited to be entering the world of double digit age number. 
12. If your life was turned into a movie…what actor would play you?
I would LOVE for Rachel McAdams to play me or Kate Hudson. 
13. What are the jobs you had in high school/college/the early years?
Wow lets see, I worked at Old Navy, Ruby Tuesdays, American Eagle, and Shop Rite
15. If you could travel anywhere in the world, all expenses paid, where would you go?
Oh lets see I would set out on a trip around the world with stops in Italy, Greece, Croatia, New Zeeland, Australia, Bora Boar, Tahiti, just to name a few! A girl can dream right?
16. Show us the most current picture of you or you and your family.
I come from a divorced family. I do not have a recent family picture of either side. HORRIBLE! I need NEED to work on this!
17. Where do you see your life in 5 years from now?
In 5 years from now I would like to see myself happy. What that means I could not tell you. Maybe in a relationship with a child or maybe still single with my pups. None the less as long as I have my friends and family I will be happy!