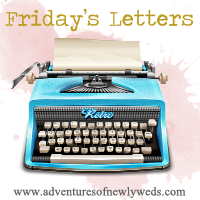 Dear Friday…So nice to see you!
Dear Combat Tape…I am so so so SO glad you are done and over with! It's time to relax! 
Dear Weekend…I have big plans for you! Lets hope the weather cooperates!
Dear Weekend Weather…Because of said dear weekend letter please keep your shizz together and stay beautiful out! I would like to lay out on the beach for a couple of hours on Saturday!
Dear Work…I don't really like you but I need you. Ugh. 
Dear Bank Account…Ya really need to fill yourself and do it on a daily basis ok? Thanks! 
Dear Moms Mom and Grandma…I am excited and nervous to meet you. I hope you like me. Sorry you missed out on the first 29 and a half years of my life. Lets make up for it ok? Or at least lets try. 
Dear 996 Mile Drive with Mom…I do not even know where to begin with you! I am looking forward to spending some time with mom but seriously 996 miles in a truck with her? Lets hope we don't kill each other ok? Not that I think we will I mean we do get along but lets be real that a LONG trip! Be good to us. 
Dear Body…enjoy this time of rest because its BALLS TO THE WALL when I get back! 
Dear Followers…THANK YOU so much for following little old me! I hope you like the guest posts I have lined up for you from the 19th till the 25th! Show these ladies some love!