I have been linking up with Neely for the past few weeks for her fun little link up Sunday Social and I really like it.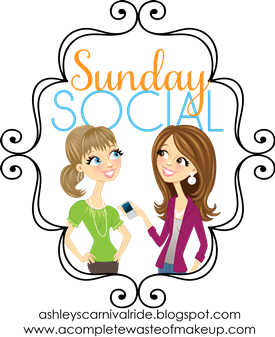 This week its all about fashion, shopping and the like!
What is your favorite store to shop at? Well does Target count? LOVE me some Target! I also like to shop at Macy's, Loft, Old Navy, NY&Co just to name a few!
If you could afford anything and everything, which designer brand would you covet? Ouch this is a hard one! I would definitely love me some MK! Mr. Michale is one of my FAVORITE designers of all time!
Must have closet staple? A excellent fitting pair of jeans and a crisp white t-shirt. You can never go wrong with that look! I also think the LBD is a must along with a nice pair of nude pumps. STAPLES people STAPLES!
Favorite kind of shoes? I love me some sneakers of course I am a fan of Nikes. But I also love me some heels and I don't have a specific brand or designer that I tend to lean towards. I like whatever is comfy though.
Best clothing deal you've ever gotten? I am not a huge bargain hunter or anything like that so when I get lucky and get any kinda sale or discount it's always a win for me! My most recent scores…
Teal shorts from Loft for $20 bucks! Skirt from Forever 21 for $15.80! Belt from NY&Co for $4.99 and shoes for $15 if I remember correctly! Totally drawing a blank on the white shorts. FAIL Nikki.
Style you would love to try? Color blocking. I am kinda intimidated by it. Not gonna lie though I think its cute!