It's Tuesday!
We made it through Monday.
I don't know about all ya'll but Mondays seem to be the hardest day of the
work
week for me.
Yesterday I went home from work with all intentions of working out. I get home walk the girlies and feed them as usual. I changed and was gonna work on some of the chorey for Combat. Well I start and all of a sudden my brain went to mush. For the life of me I couldn't remember ANY of my chorey.
FOR REAL?!? 
I know I know my chorey but my body was not having it yesterday. So instead of driving myself crazy I shot my friend Katie a txt message asked her if she had plans and girlfriend pulled through. As soon as she got home we hit up happy hour at Kona and just had some good ole fun. Thank God! Sometimes ya just gotta give in and throw your hands up.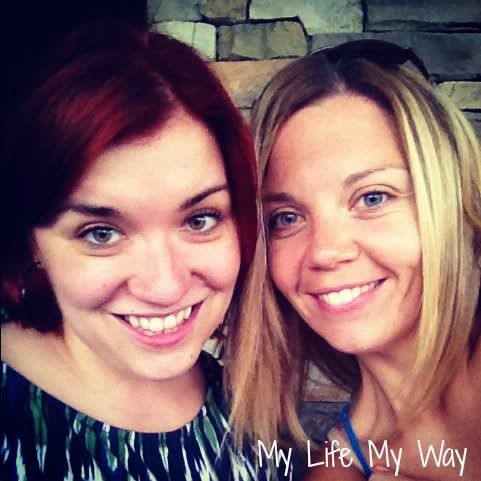 Katie and I sans make up cause that how I was rollin yesterday. Be jealous!
In the words of Katie "En guard!"
Apparently this is what almost 30 year olds do with chicken satay sticks. Yes we are adults. 
Moving right along…
Lets take a minute today to recap my life this past week and weekend through
Instagram
shall we? If you
follow me
ya have seen all these but check em out again and see exactly what I have been up to. If ya don't
follow me
why not? You should be!
So I just realized that I did not number my pictures. DAMN IT! 
So we are gonna have to start from the top left and go
CLOCKWISE
. Follow me people. 
*The first picture top left was at the gym. I jumped on the Arc Trainer before combat and was listening to the music for BC52 and working on chorey while I was on the trainer. Interesting to say the least! 
*Next we have the hungry caterpillar eating Raymond at work. What the heck?!?! Well that is actually my friend Dana's sons 1st birthday party invitation. I was bored at work and the hungry caterpillar told me he was hungry so I fed him. The things I do to entertain myself I tell ya! 
*Friday I got a email from The Color Run fairy with all kinds of info for the race. The most interesting thing it said was to "oil your hair well before the race." WHAT?!?! I think not! 
*Friday night I got outta work and proceeded to park my behind on my couch and play catch up with my DVR. First up was RHONJ! 
*Top right picture is of my Rylie face. She thought that if she gave me sad puppy dog eyes this momma would let her on the couch. No dice! No puppies on the couch! 
*Going down the right side. Again Face trying to weasel her way on to the couch. That right there is a puppy on a mission.
*Sunday I took the truck to get washed. Boy was it much needed. I had puppy drool ALL.OVER the windows. While I was there I found these yummy Tahitian Vanilla air vent air fresheners. Makes me wanna go on vacation STAT! 
*I am gonna do the next TWO pictures together. Sunday night I went for a walk by the waterfront park by my house. The sunset was phenomenal! 
*
Bottom going from the right to left.
CUPCAKES
! I was gonna go to my friend Denises house on Saturday for some BBQ and decided I would bring cupcakes. Well I got them and was on my way to her house when she had to cancel on my last minute. I hate that but apparently there was a misunderstanding with her in-laws. Guess what I had for dinner? 
*Good ol selfie! I was showing off the new e.l.f lip gloss I got on a whim. I loves it! 
*e.l.f lip gloss I just spoke about. 
*Bottom left corner going up. My work computer screen. Exciting I know! 
*Gas Monday morning cost me $65.03. Ya know what kills me about that? The .03. REALLY!?!? Ya couldn't make it .00 or even .05. 
*

I got me a mani last Thursday! I am

LOVING

like big puffy

pink

heart loving

 the gel nail polish! Seriously lasts me a week. 
*What I do to combat boredom at work. Rag Mag puzzles! 
*Middle large picture. The Girls being all cute and chilling out in the sun that comes through the front door window. I swear these two LOVE to sit in the sun. 
Random other tidbits of useless information about my weekend?
*Sunday I went to Target for some odds and ends. I realized while I was getting Zoe some treats that I didnt remember the last time I got dog food so I figured lemme pick up a bag JUST INCASE. Well I got the BIGGEST bag they have because I always do that and get home with it to find that I still had half a bag left from the last time I got dog food. Opps. At least the girls wont go starving anytime soon! 
*I seriously did nothing but go to the gym in the morning both Saturday and Sunday. It was nice not having and plans with anyone or having to be somewhere at sometime. 
*Sunday was my brothers birthday. I called him he didn't answer. I also texted him and facebooked him. 
*I wanted to watch one of my all time favorite movies on Saturday and went to get the DVD out of the case and low and behold IT WAS MISSING! I was not happy! 
How was your weekend?
Don't forget to link up on SUNDAY for What Made Me Laugh with myself and Melissa.