Do me a favor and think back.
Remember the one about The Naked Cowboy and Naked Cowgirl. Well have I got a treat for you today sugar plums.
The First Officially Licensed Naked Cowgirl
is gracing us with her presence today to answer some questions from myself and some of you!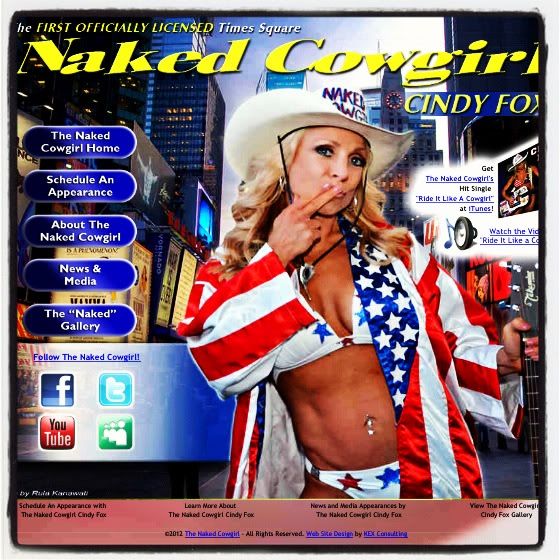 1. How did you find My Life My Way and what did you think of my post The Naked
Cowboy and The Naked Cowgirl Only in NYC?
I receive Google Alerts to my email for "Naked Cowgirl" and your blog "The Naked Cowboy and The Naked Cowgirl Only in NYC" showed up. Being that he and I had been a couple living together for almost 8 years, I was surprised to see a different cowgirl in the photos at first, but I did enjoy the article.
2. What did you think of the "impostor" Naked Cowgirl the first time you saw her?
Robert (Naked Cowboy) came home one day telling me that a much older woman came out to Times Square dressed up in a cowgirl hat, a big colorful wig, with a guitar and pasties instead of a top. He had become friendly with her by the time I got out there to see her so he introduced us and she was friendly towards me and raved about him. Once I got past the shock factor after seeing her for the first time, my second thought was that she's in pretty good shape for her age (and even better than many women half her age).
3. How did you become the Official Naked Cowgirl and how long have you been The Naked Cowgirl?
When I met Robert in 2004 at a gym I worked at, I didn't know anything about a Naked Cowboy, so when we started dating, I thought he was just known locally in the NY area. I realized when I traveled with him to other states and countries that he was well known. People started asking him if I was his Naked Cowgirl and asking me why I wasn't in my underwear, so I started to dress the part, play the role, and take photos with people when we traveled out of the area. I didn't know how to play a guitar except for a few chords he taught me during a business trip to Japan. My kids (at the time 8, 12, & 15) were just getting used to the idea of their mom dating the Naked Cowboy, never mind doing the same thing as him! Going into Times Square at that point was not an option except for one time I did to promote a DVD we did together. Robert Burck had a law suit with Sandy Kane to establish that he owned the rights to the name and image "Naked Cowgirl", which he did establish in a court of law. In June 2010 I decided it was time. I told him I wanted to sign his licensing agreement and I become his first "Officially Licensed" Naked Cowgirl.
4. What is your favorite part of being The Naked Cowgirl? What about the hardest part?
My favorite part of being The Naked Cowgirl is stepping out into one of the busiest intersections of the world in a bikini, with a guitar, and having hundreds of complete strangers coming up to me with a big smile and wanting to get a photo with me and having them tell me "I saw you on TV"! Getting to go make appearances at fun events is a bonus! My least favorite part of being the Naked Cowgirl is THINKING ABOUT going outside in 20 degrees on a winter day that I plan on going. Just knowing how cold it is, I have to start playing mind games with myself to get psyched to do it. The second I step outside that parking garage I will be shivering and filled with goose bumps, the whipping winds will take my breath away, but I love to see the people's faces when they see me!
5. What do you do to stay in shape?
I was a gymnast and a cheerleader growing up and became a fitness instructor my senior year in high school, so I've been very active my whole life. I started working out with free weights when I was 16 and started teaching aerobic classes at 17, both of which I still do. I did put on a lot of weight after high school and became bulimic on and off for 20 years, so although I've always worked out, I've had to work VERY hard at staying in shape. I am more on a "maintenance" workout as far as weight training goes, but I must do my cardio at least 4 or 5 times a week or I will get fatter. If I'm not teaching a spin or some sort of cardio class, I'll go outside running in the nice weather or do the elliptical when it's cold or raining. I read the book "Skinny Bitch" almost 3 years ago which goes into great detail about the torture animals go through in the slaughter houses and I became vegetarian, and now I'm vegan. For the first time, I was actually able to resist eating the bad foods that made me gain weight, but it was because I would get images in my head of the animals being tortured. Over the course of the first two years, I dropped about 8-10 pounds, which is what I basically maintain, although I still have to watch that I don't eat too much of the foods that I do eat.
6. What do you do in your free time?
Since I work 20 hours in a hospital as an x-ray tech and teach CPR Classes their twice a month, I teach 4 classes at the gym plus train clients about 10 hours a week, and then try to get to Times Square in between all of that, I don't really have much "free time". I try to be home to cook for my younger son who's always home, catch up on emails and housework, get my nails done, etc…. I've only recently started making time once a week to go out socially since I am not dating the Naked Cowboy any more and am single for the first time in years!
How do you keep warm in the winter time?
I do NOT keep warm in the winter…I freeze my ass off!!!
What is the craziest thing a fan has ever done FOR you?
Prior to becoming known as the Naked Cowgirl, I had a pretty large following of people just as "Cindy Fox Fitness" and as Naked Cowboy's girlfriend because we had a webcam in our house that was on TV for about 5 months. It also had a chat room so I had "Cindy's 7am Coffee Club" and a lot of regulars who followed me. One of my loyal followers and his partner drove from Indiana to meet me at a CD Release Party we were having in Nashville. He told me in the chat room that he was coming but I misunderstood his message so I was shocked and thrilled to see them show up! I've also gotten nice gifts from my "Number one fan in Japan", Keiko, and Louise in China. It's very flattering
What's the craziest thing that has happened to you while on the job?
When we had a blizzard two years ago here in New York, I decided I need to establish that I was able to handle whatever the Naked Cowboy could, so I told him "Grab the camera and let's go"! We should not have been driving in those conditions, but we made it into Times Square and we both went out in the middle of the blizzard. He lasted 9 minutes and I lasted 11 minutes…yes, I outlasted him!!!
What was the reason you wanted to become the Naked Cowgirl?
I got a lot of encouragement from many people who knew Robert and Me personally, as well as fans who just knew I was his girlfriend. I look like his female counterpart and we both have the same standards for ourselves as far as being fit and being persistent when we put our minds to something. I had two fitness DVDs before I met the Naked Cowboy, as well as Youtube workout videos, blogs, as well as articles I've written for other people's websites or newspapers. I knew if I wanted to take this all
further and explore all of my options I would need to do something to get noticed. I now have a song on iTunes called
"Ride It like a Cowgirl"
and a music video to the song. Both can be found on my website www.nakedcowgirlfox.com as well as my
Youtube
 videos, photos, bio, and also click on the links to follow me on
Facebook
and
Twitter
Myspace
.
There ya have it friends. Cindy The Official Naked Cowgirl. Go check out her links say hey and tell her I sent ya!