Pinterest.
I love thee.
Follow Me?
I saw this pin…
and I knew I had to make this!
Avocados, Strawberries and Goat Cheese!
Hello yum!
Can we also say SIMPLE to make!
Ready for it?
Toast some bread.
Mash up an avocado and spread it on the toast.
Slice up some strawberries and warm em up in a pan with a little bit of balsamic vinegar.
Put the strawberries on top of the avocado.
Sprinkle on some goat cheese.
Pop it in the toaster oven set to broil to melt the cheese IF YOU WANT.
Devour.
Your welcome!

**********
So a little while ago I signed up to participate in a fall swap over at Tracys blog.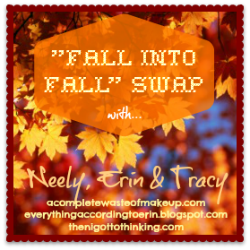 I waited to find out who my partner was and then went shopping! 
I was paired up with
Jade
.
I sent out my goodies to her and eagerly awaited the arrival of hers. 
Well friends yesterday I got home form work and alas her package was patiently waiting for me to rip into it! 
Lets explore shall we?
She sent me 2 really cute little candles.
One is Pumpkin Cupcake and the other is Pumpkin Caramel Latte.
They both smell delish and I can't wait to burn those suckers!
She also sent me a new tumbler.
I have a slight obsession with these little cup.
No lie I did a little happy dance when I saw it!
She also sent me a new chap stick!
LOVE!
How adorable are these socks?
I live in these kinds of socks all winter long!
I can't wait to wear them!
She also sent me her favorite recipe for Pumpkin Roll Cake.
I can't wait to try that as well!
Thanks Jade for everything! 

**********
My IRL friend has joined the blogging universe!
Go say hi to Katie and give her some love for me please!

Happy Friday Friends!