It's that time.
Ya know that time where we play life lately via
Instagram
.
If you don't already
follow
me
you really should be.
At least I think you should be!
If you do let me know and I will follow you too!
Apparently I went Instagram happy this week so I made 2 collages.
Enjoy!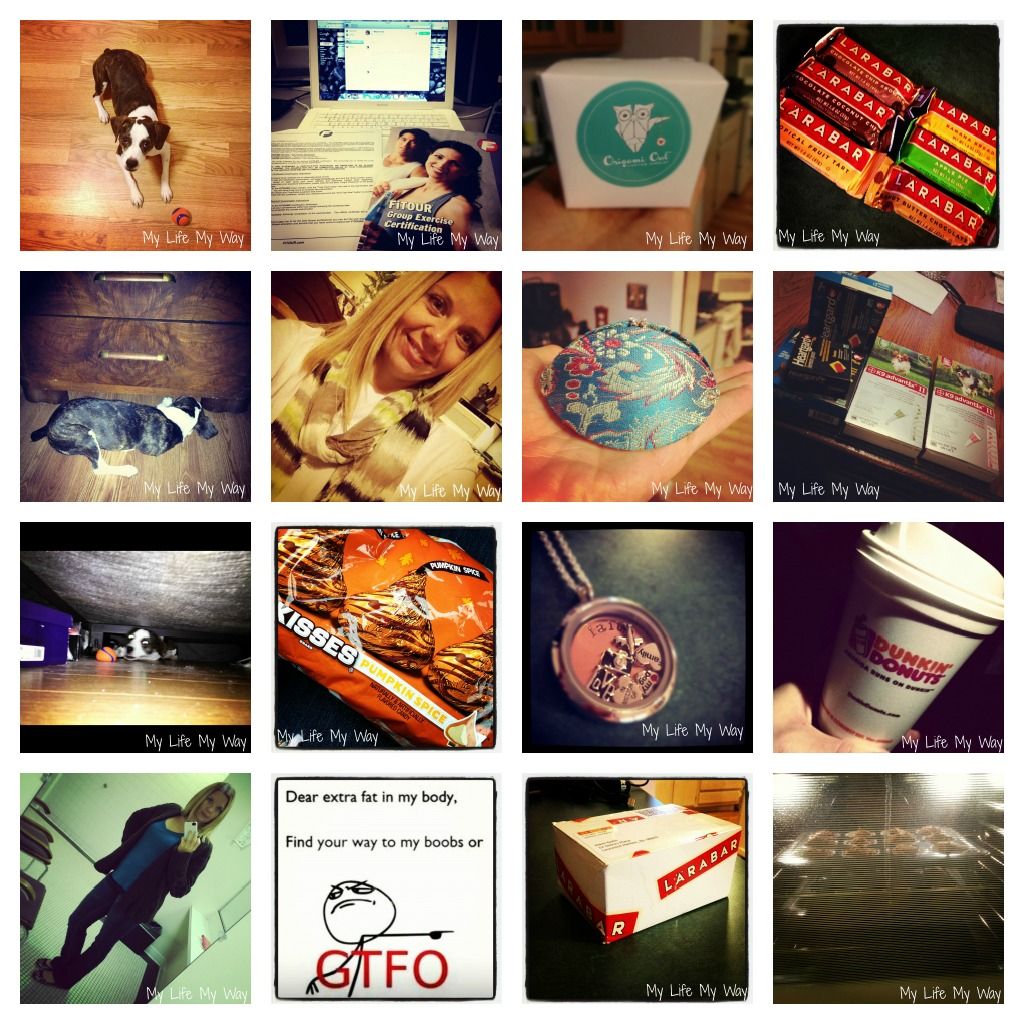 1ST ROW LEFT TO RIGHT:
Rylie and her ball. Girlfriend LOVES that ball.
Studying for my GFC
Lara Bar. Review to come stay tuned!
2ND ROW LEFT TO RIGHT:
Rylie desperately trying to get her ball from under the dresser.
Me and my new scarf.
More cute packaging from my Living Locket.
What $550 dollars at the vet gets you along with the office visit and shots.
3RD ROW LEFT TO RIGHT:
Rylie and that ball again silly dog was under my bed.
Pumpkin Spice Hershey Kisses. Mixed feelings on these.
LIVING LOCKET!!!!!
First DD in FOREVER!
4TH ROW LEFT TO RIGHT:
Me rocking real clothes to work. I had a blate that night after work. More to come on that.
I died when I saw this!
Larabar box that appeared in my mailbox! I was so excited!
Pumpkin Spice Cupcakes!
1ST ROW LEFT TO RIGHT:
My first Klout perk! Business Cards!
Zoe loving life on Mollys lap.
Starbucks treat to myself.
2ND ROW LEFT TO RIGHT:
Rylie being silly.
Anual Last Supper with my father and his wife. Home made sauce meatballs and sausage! LOVE!
Wine tasting.
3RD ROW LEFT TO RIGHT:
5K Time and calories burned.
Dog sitting a friends dog for a month. Yes a MONTH! Chloe.
Walking from New Hope PA to Lamberville NJ.