Happy Tuesday Friends!
Last week I missed Insta-Tuesday and I have to say I was kinda bummed about that!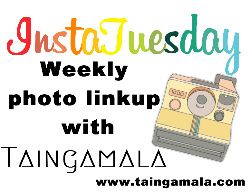 I really like to have a weekly photo dump of my
Instagram
pictures.
You should!

As you can tell I got my fall decorations out!
The pumpkin on the left is a direct result of the little shopping trip to Michaels hints the picture on the right.
The middle picture?
Those bad boys are real pumpkins I got at the pumpkin patch because yes I am still a 5 year old at heart!
The past week has been an amazing mail week!
I have reviews coming for you just you wait!
Seriously some awesome stuff!

I have been teaching Rylie how to leave a treat on her nose till I tell her it's ok for her to have it.
She's getting there….SLOWLY.
Last Wednesday was a rough day at work.
The middle picture is proof.
I had a coffe and 2 SPARKS to get through the day.
I also added to my combat library!
So much new material!
**********
I am guest posting over at Taras Blog today.
Go over and check it out and say hi!