It's Tuesday!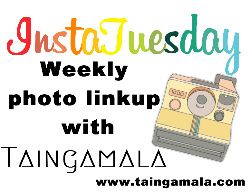 Lets catch up with my life via Instagram shall we?
You should!
TOP ROW LEFT TO RIGHT 
Dakota my moms dog up and made herself comfy on my chest one day.
Took a 2.85 mile hike had to take advantage of the beautiful weather while it lasts!
Got bored at work and decided to paint my nails!
MIDDLE ROW LEFT TO RIGHT
Made turkey chili and man was it good!
FINALLY went to the eye dr to find out why my eye has been red for weeks.
Made chocolate chip banana muffins with out sugar or oil yes yes yes the recipe will be here tomorrow!
BOTTOM ROW LEFT TO RIGHT
Rylie and I on our hike she was a happy puppy can you tell?
Crock pot Italian Chicken again recipe tomorrow!
Longest straight arm plank to date since starting the plank a day challenge.