Well,
Allie
and I were paired up to be scarf swap partners and it just so happened that we live close to each other so we decided instead of mailing out the packages we would just meet up and swap in person.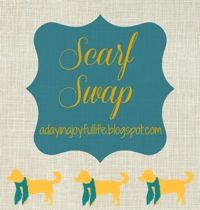 Little did we know that we both have the same taste in scarfs.
Why?
Well because ironically enough we both got the
SAME
scarf for each other.
Ironic much?
I have to say that I am so so so excited about this scarf.
See I almost bought this scarf for myself when I got it for Allie.
It's so soft and silky I
LOVE
it! 
Alli also hooked me up with these awesome brownies.
Sooo good!
Thanks Allie!