Hi Friends! 
Thank you all so much for your sweet words and prayers while I am going through this. 
I have some news.
Good news AND bad news. 
First of all we are expecting a nor'easter to roll on through the area tonight.
They are talking rain and or snow depending where you are in the state and wing gusts 40-50mph.
Because ya know Hurricane Sandy was not enough.
BRING IT MOTHER NATURE! 
I know the other day I told you that I was looking at another 7-10 days without power but my brother at stopped by my house to check on it and while he was there he ran into someone from JCP&L and he got to talking to him.
He was told that the substation that powers my area is STILL UNDERWATER and salt water to boot and they are still pulling fish outta it and outta the fence around it. 
First off my mothers house got power back LAST NIGHT! 
No more generators! 
Thank goodness! 
And some more good news. 
When my brother found out what the JCP&L guy said he called me to tell me. 
Then he said that he could bring me his welder which makes electricity while its running and he would MacGiver it to my house so I can have some kind of power! 
Can we say the heavens about started to sing! 
He is gonna do that Saturday! 
I CAN'T WAIT! 
I hope he has no problems doing this as well. 
My back will love him forever.
I have not slept in a bed in over a week and my body is feeling it! 
Don't get me wrong I am so thankful that I have been able to stay at my moms the past 8 days but I am so so ready to have my own space. 
Funny story…the other night I was heading out to the gym to work out shower and then go to our monthly instructors meeting when my mom stopped me and said…
"Nick when you gonna be home?"
to which I replied 
"Really Ma? I am gonna be 30 years on in 2 weeks and your asking me when I am gonna be home."
We both laughed. 
Mom said 
"Some things will never change, I'm your mother and I will always worry about you and when you are gonna be home especially when you are staying with me." 
I said 
"I know and I understand that and I really do appreciate it."
Although the situations I am dealing with sucks it has been nice being home with my parents. 
As much as they can drive me nuts I am so happy to have them in my life. 
I honestly don't know what I would do without them. 
On another note I can tell you of two four legged friends who are eating up being here. 
Zoe has take up residency on a blanket infront of the heat register.
Little monkey cant get warm enough.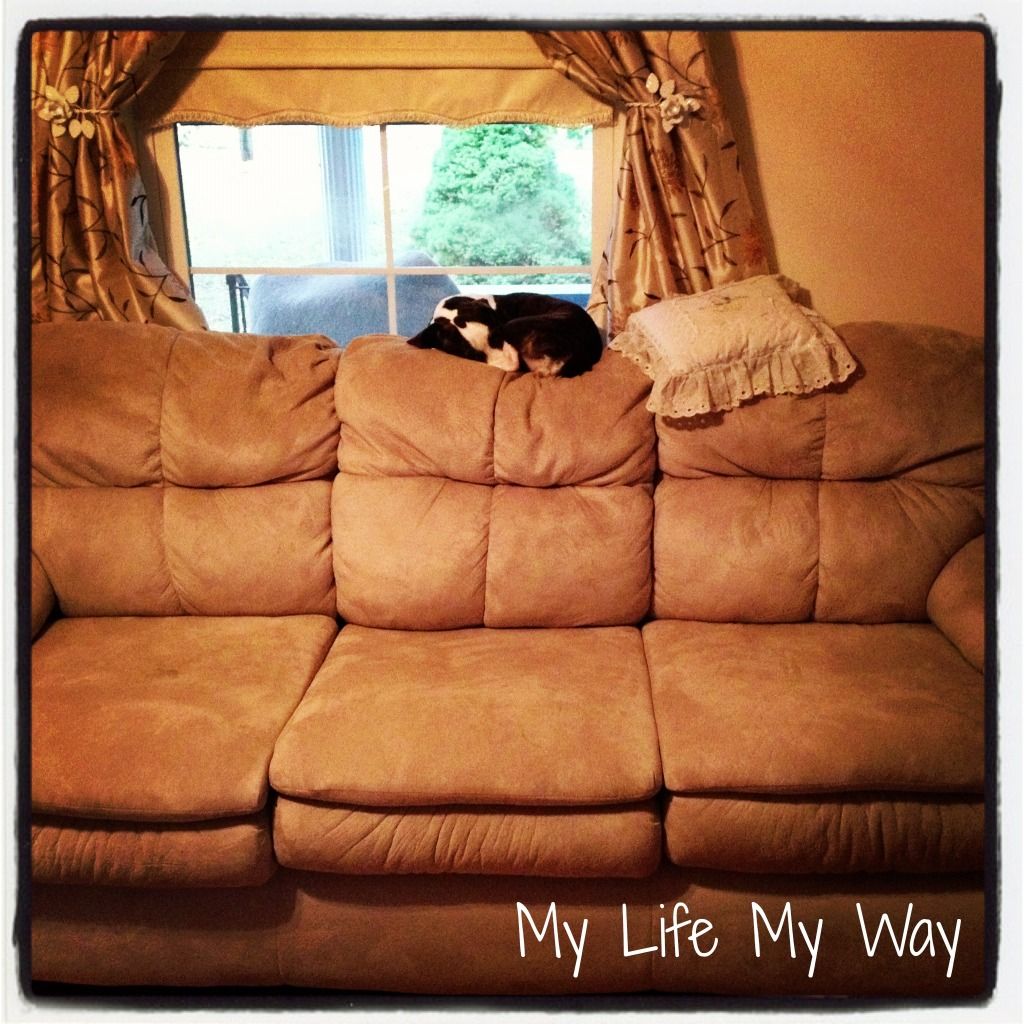 Rylie on the other hand has taken full on advantage of the fact that she is allowed on the couch at gram mas house.
She knows she can't go on the couch at home and spends as much time as she can up there since we have been here.
Smart little monkey. 
Well friends I am off to move some firewood because mom just informed me that she is not sure how much oil we have left so she wants to have firewood ready for the wood burning stove.
I will check in with you lovelys in a few days.