Hey Friends!
Well all ya'll got your panties in a bunch asking me for the recipes for them.
First of all I did not make them.
Ya know who did?
KENYA
did.
Kenya as in little miss I just came clean to the world about my real name.
So now from here I will let Kenya take over and tell ya'll what to do….
 So, Nikki told me that you all saw the cooking and baking we did when we spent the day together.  Well, let's be honest, I did all the cooking and baking. Nikki just watched me.  But it's OK, last time I was at her place, I watched her bake me some cookies… so it's an even trade off.
Anywho… she also told me that you all want the recipes for my empanadas and pumpkin pie I did that day.
Let's start with the empanadas first:
FILLING
You can use any kind of ground meat (turkey, chicken, beef) I use beef because it's awesome and I love it.
Season the meat to your liking. (I use some Adobo, low sodium; garlic powder and some oregano) Eyeball it people.  It doesn't have to be down to a science.
Brown the meat in a skillet.  I pour in a small can of tomato sauce and let it simmer for another 2 minutes after the meat is browned.  You can also add some green olives.  I don't because the hubs has a major "yuck" factor to them.
PASTRY
I buy the "discos" as they are called (which are also round pastry dough circles that you can find in the freezer that some people use for apple turnovers).  I like to buy the 
Goya Discos 
which work the best. Most IMPORTANT step – DEFROST the discos entirely so they are doughy feeling.
PREP
Take out the glorious empanada invention.  If you don't have one of these, you simply place a spoonful of filling in the middle of the pastry.  Fold it over and use a fork to go around the edges and press down firmly to seal both sides together.  Photos to help with visual: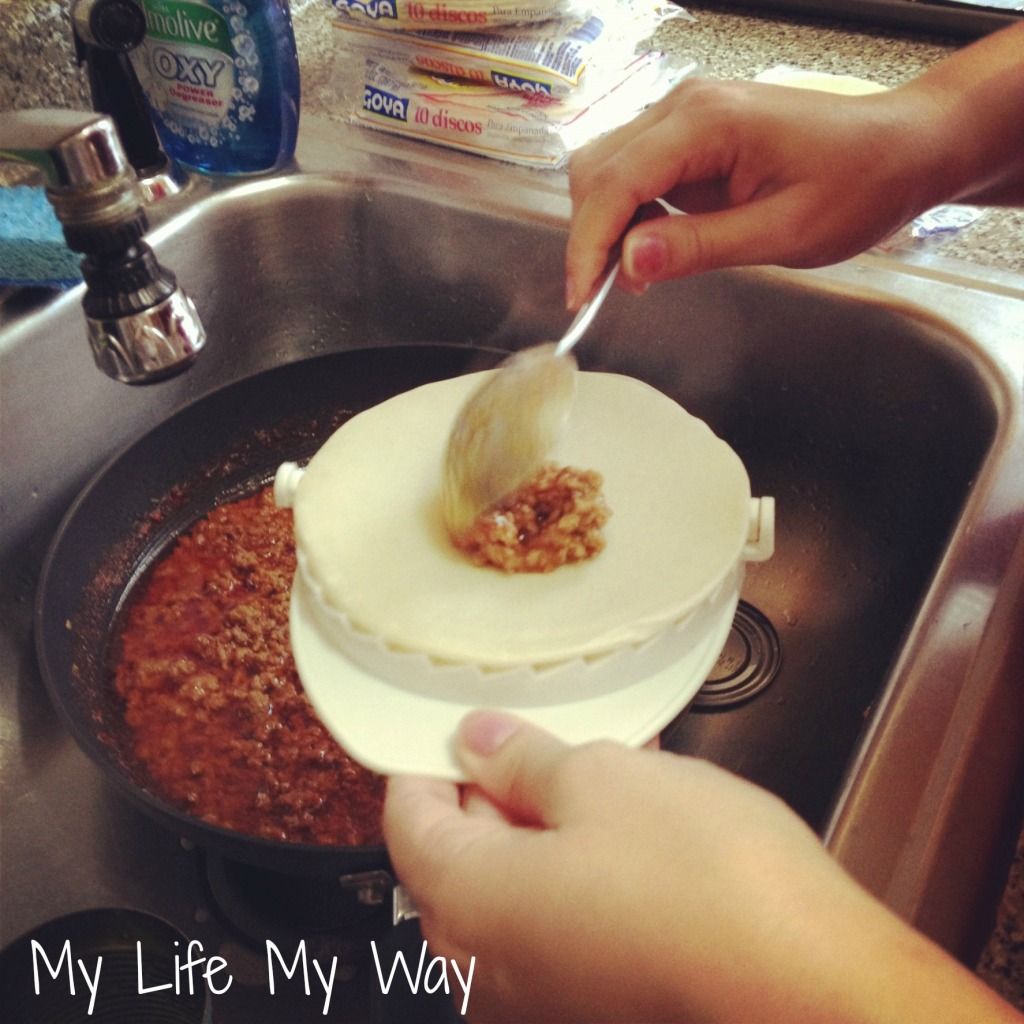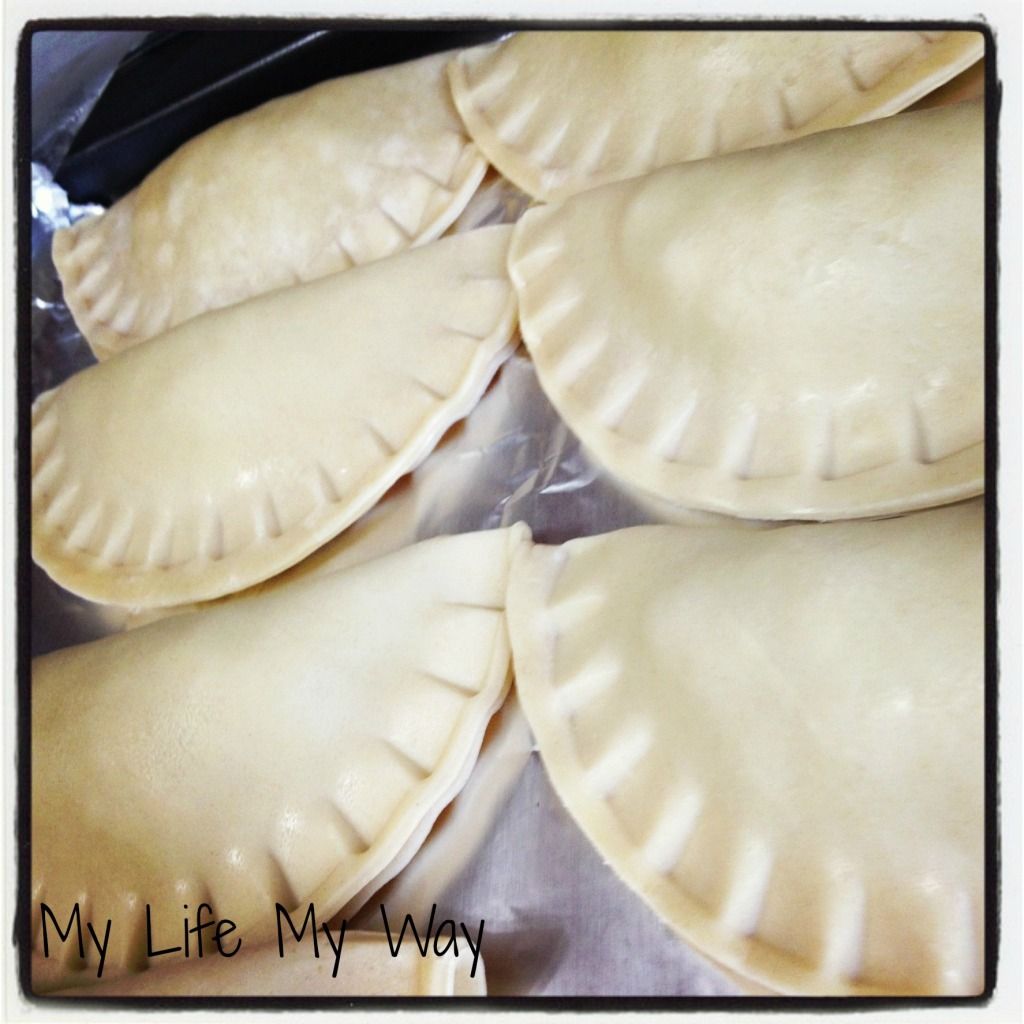 That's what they should look like when prepped.  The ridges you see above would be the same with the fork.  You have to make sure they are sealed together good because the last thing you want is for it to bust open in the deep fryer and the filling spill out.  That would be a waste of a perfectly good empanada. 
If you have a deep fryer, drop these babies in until golden brown.  Set on a paper towel to degrease and enjoy!  You can also try to be "healthier" about it and bake them. But I can even tell you for how long or at what temp because if I am having an empanada, I am going all the way. But google may be able to help you with that, OR, locate a Spanish friend! 
Now, for the pumpkin pie. I do this from scratch so I can show off to everyone.  Yeah… I like showing off, but let's not talk about that right now.  DISCLAIMER: I DO NOT make my own pastry dough. that is something I would like to try, but not ready for yet. So I buy good ole Pillsbury refrigerated pie crusts. Thank you Pillsbury!  Anyways, I found this
recipe
last year and fell in love.  See below:
Suzanne's Old Fashioned Pumpkin Pie Recipe
INGREDIENTS
2 cups of pumpkin pulp purée from a sugar pumpkin* or from canned pumpkin purée
1 1/2 cup heavy cream or 1 12 oz. can of evaporated milk
1/2 cup packed dark brown sugar
1/3 cup white sugar
1/2 teaspoon salt
2 eggs plus the yolk of a third egg
2 teaspoons of cinnamon
1 teaspoon ground ginger
1/4 teaspoon ground nutmeg
1/4 teaspoon ground cloves
1/4 teaspoon ground cardamon
1/2 teaspoon of lemon zest
1 good crust (see pâte brisée recipe)
* To make pumpkin purée from a sugar pumpkin: start with a small-medium sugar pumpkin, cut out the stem and scrape out the insides, discard (
save the seeds
, of course). Cut the pumpkin in half and lay cut side down on a rimmed baking sheet lined with silpat or aluminum foil. Bake at 350°F until fork tender, about an hour to an hour and a half. Remove from oven, let cool, scoop out the pulp. (Alternatively you can cut the pumpkin into sections and steam in a saucepan with a couple inches of water at the bottom, until soft.) If you want the pulp to be extra smooth, put it through a food mill or chinois.
METHOD
2 Mix sugars, salt, and spices, and lemon zest in a large bowl. Beat the eggs and add to the bowl. Stir in the pumpkin purée. Stir in cream. Whisk all together until well incorporated.
3 Pour into pie shell and bake at 425°F for 15 minutes. After 15 minutes reduce the temperature to 350°F. Bake 40-50 minutes, or until a knife inserted near the center comes out clean.
4 Cool on a wire rack for 2 hours.
Serve with whipped cream.
BOOM SNAPS.. there you go. I hope you enjoy it.  I know Nikki and I did. 
There ya go friends from the horses mouth herself!
Now go cook your behind off and then go thank Kenya!
BTW I LOVE the fact that I can now use homegirls real name!