Happy Tuesday Friends!
So I didn't work yesterday so today is really my Monday.
I cant and wont complain about that that is for sure!
How was everyones weekend?
Mine was good.
I went to AC but I will have more on that tomorrow.
Today just like every Tuesday I have my
Instagram
pics for you.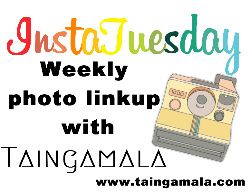 LEFT TO RIGHT
1.
I am LOVING my results from CX lately. I do however wish that both gyms I go to offered it at better times. I can only make it to 2 CX classes a week. I would love to hit up 3. 
2. The peep fairy made a appearance at work one morning. Christmas Tree peeps! Totally gotta add one of these bad boys to a cup of hot chocolate! 
3.
This sign that is on one of the bathroom stalls at work kills me. Really? Do people really need to be told that they can't use a specific stall? I mean really common sense people. 
LEFT TO RIGHT
1.
I put up my Christmas Tree along with the rest of America. Not gonna lie its a small white tree but ya know what at least I have one up. I personally love it! 
2.
I mentioned this the other day. I went shopping and went to get
LEMON
juice and I managed to grab
LIME
juice. OOPS! I still am using it in my tea. 
3. I mad mini pumpkin muffins with dark chocolate chips. SOOOOOO good. Amazingly I still have a few left. 

LEFT TO RIGHT
1.
Saturday I subbed at RWJ and I got to rock my new Venum shorts. I wanna get a few more pairs. They really are so comfortable and non-restrictive to teach in. 
2. I had to run to the pet store to get some new pet beds and dog food for the girls. I get there and the mark up on the things I wanted was REDIC! I wound up having to go to Target. Well it was cold out on Saturday and I was not leaving Zoe in the truck so she helped me out in Target. Yes I know you are not SUPPOSED to bring your dog to Target but sometimes the safety of your pet is more important than store policies. 
3. New toys for my phone!!! So excited! More on this tomorrow!