Hi friends!
I thought today we would catch up with some of my Instagram pictures. 
Do you follow me?
You should! 
Ya know it's funny some weeks I am all over Instagram and post

ALL THE TIME

.
Then there are weeks when I may only post 2 or 3 pictures like I did last week. 
Well this was a heavy Instagram week for me.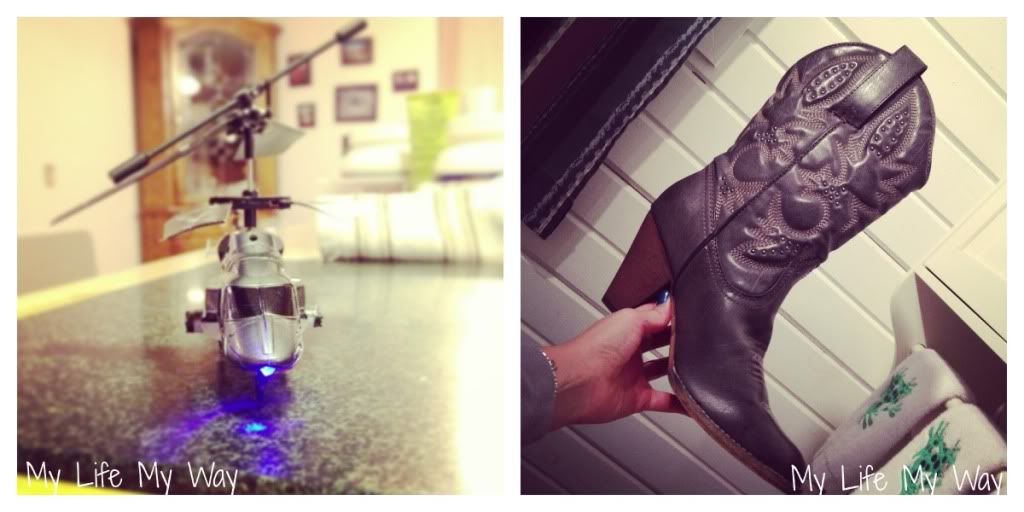 Last

Friday

I did a little Christmas Shopping for myself. 
I have been looking for a piar of cowboy boots for myself for a while BUT I didn't wanna spend hundreds of dollars on them. 
Well

mission accomplished

Friday night! 
See those babies right there?
$40 bucks at Bakers! 
I also found this remote control helicopter and thought it would be fun to get and torment Rylie with. 
Saturday

I hit up the gym for my Les Mills trifecta morning which included

BodyStep

,

BodyPump

and

BodyCombat

. 
Over the past few weeks I have really been digging the trifecta morning. 
After that I went home and parked my lazy behind on my couch caught a nap and watched Step Up till I had to get cleaned up and dressed to go to a graduation party.
Sunday

I wound up doing some holiday baking. 
I made the Christmas pretzel buttons only I made them peanut butter M&M's.
I also made chocolate chip cookies and I made a batch of chocolate chip peanut butter M&M cookies. 
I think I may make some more of the buttons for Christmas Eve at my moms and Christmas Day at my uncles. 
MAY

being the key word. 
Overall another good weekend bites the dust. 
Other random Instagram pictures…
Remember I meet up with Shay last week? 
Well I had a arm full of arm candy. 
Is there such a thing as to much?
Then of course there is always my creepy neighbors who think its

PERFECTLY

okay to park in the middle of the street in front of my house and just BS.
REALLY?!?!
Random at home work out on the treadmill. 
I really should track my miles this coming year. 
And finally one of my most favorite mid morning snacks

EVER

! 
Slice of whole wheat toast with a little peanut butter cut up bannan and crasins! 
How was your weekend?