Happy Monday to me friends!
I know it's Tuesday but I was off yesterday so that makes today my Monday.
Not for nothing having Monday off is AMAZING but it really screws me up for the rest of the week. Watch all week my days are gonna be off. Such a terrible thing right? Not so much.
Anyway moving right along how was everyones weekend? Mine was awesome! Busy but not jammed packed which is always good.
Friday
night I got my weekend started with a little
Pump
and
Combat
as usual. I showered and got dressed at the gym and then Lobster and I went to this place by my house called Cafe 34 and caught Brian Kirk and the Jirks. They are a shore band and I have to say they are pretty awesome!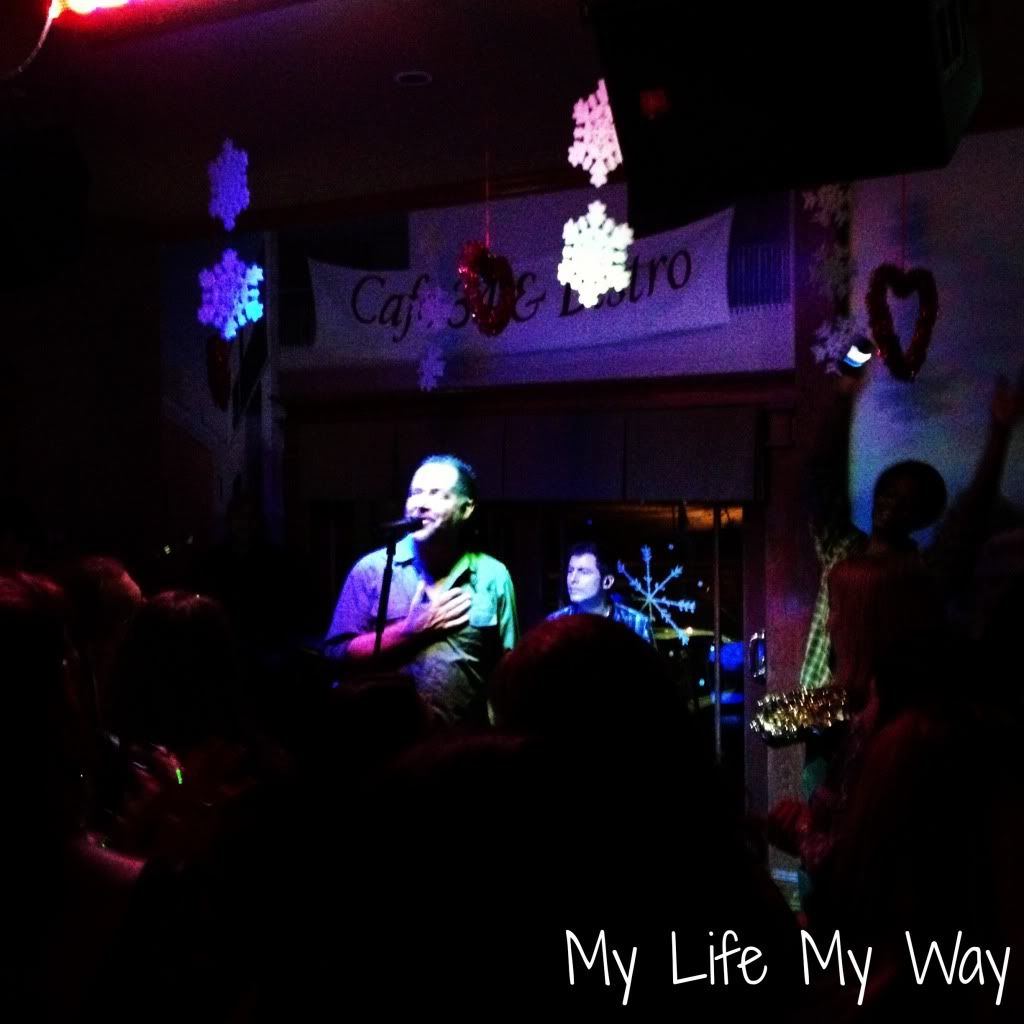 Saturday
morning I had launch over at RWJ OB and I have to say it was a success! I headed over early with all intentions of taking Step to support my friend Liz who was teaching but I wound up running through the tracks I was launching. At least Liz knew I was there to support her. I made funny faces at her while she was teaching. Hey what are friends for right? Have no fears because she did the same to me when I was teaching.
Jen, Sue, Jodi and I
After launch I meet up with my mom to do some shopping. She needed to get some stuff for her upcoming trip and I really didn't NEED anything but I wound up getting a really cute pair of boots that are big enough to fit around my monstrous calves and a really cute bating suit. 
Sunday
I got up and tried Hot Yoga. Can I just tell you it was frigging
AMAZING
! I have all intentions of adding it to my weekly workout routine for sure! The rest of the day Sunday I wound up being lazy and watched the playoffs. I am so happy the Pats got knocked out. Sorry Pats fans! My bet is the Ravens are gonna take it all. Although I know the 9ers are looking for the 6th ring. It should be a good game.
Monday was a holiday for us at work. Lobster and I headed into the city for the day. We wound up walking Bleaker St. and snagged some lunch and then walked around snagged
cupcakes because let be honest what trip to NYC is complete without cupcakes? I totally spaced and did not take pics of them before I inhaled them. I also scored 2 new phone cases for $10 bucks on the streets!
I LOVE NYC!