Yes I know this is a little late but that's just the way life goes.
Anyway so Valentines Day this year didn't go
quite
as planned. See Lobster said he was going to cook us dinner and he had given me a choice between chicken, beef or fish. I told him fish.
Well then the contractor decided that he was going to take his sweet ass time to get the doors in and low and behold he was here ALL day on Valentines Day. Lobsters plans of cooking dinner went out the window. I was okay with that too because we cook together all the time. No harm no foul.
While I was at work I felt bad because Lobster was at my house ALL DAY with the contractor so I got the swift idea to look on Stub Hub for Rangers tickets. Well that thought lasted all of .05 seconds because boss man was on a rampage and freaked out because we were busy.
Ironically enough, Lobster called me that afternoon and asked me if I wanted to go to the Ranger game since he was not able to go to the store to get things for him to cook.
SAY WHAT?!?! 
I told him I was looking on stub hub for tickets for the game myself!
Great minds think alike! 
I busted outta work at 4 got home changed and we were on the train on our way to NYC! First stop was the Stub Hub office to pick up our tickets. While we were walkin I noticed The Empire State Building was decked out and ready for Valentine's Day!
We got our tickets made our way back to MSG and settled in for the game!
Not to long into it did this happen…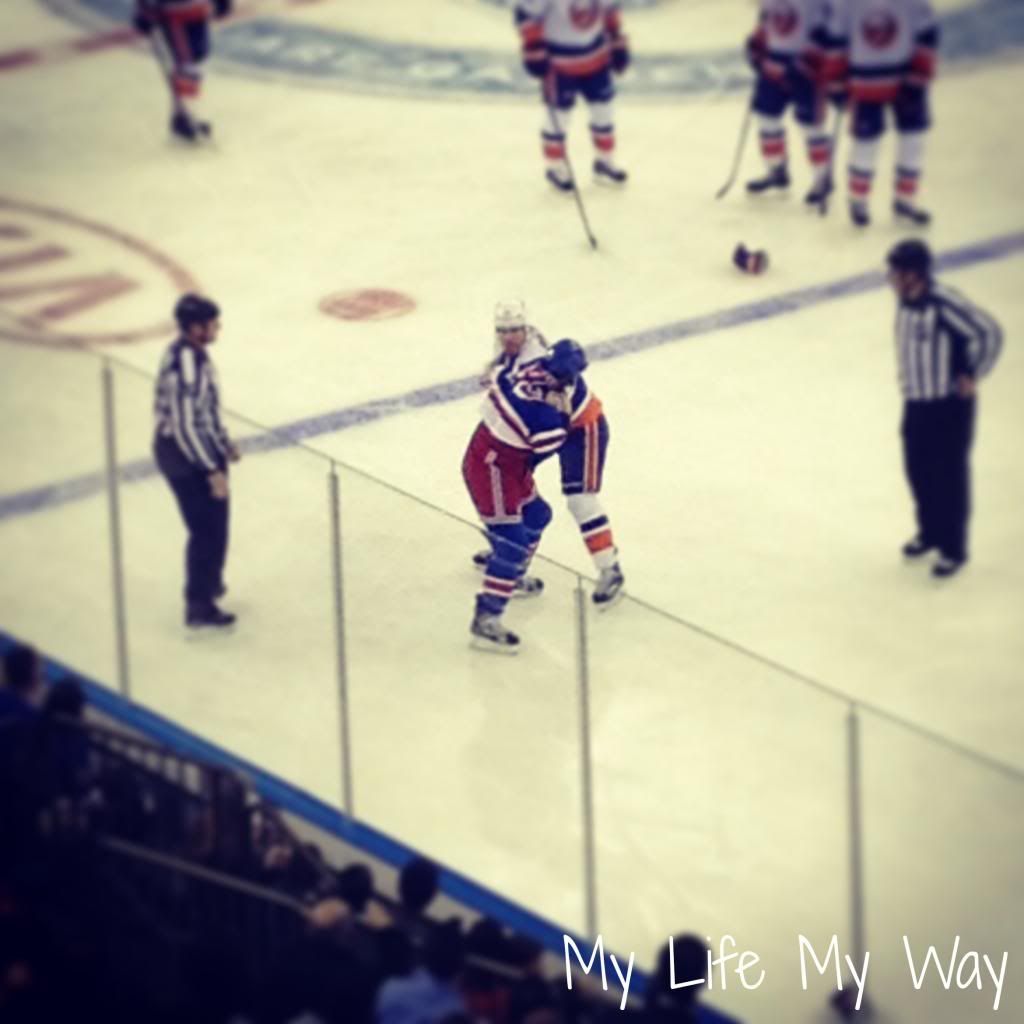 FIGHT FIGHT FIGHT FIGHT! 
Seriously this wasn't the only fight. Only it was however the only fight on the ice! I have been to my share of hockey games but never have I ever been to a hockey game wehre there were not 1 not 2 but 3 fights in the stands between fans. Really people? I mean come on its only hockey ya really don't need to get all up in arms over it. Mind you the Rangers were playing one of their rivals the NY Islanders.
The game went on and let me tell you it was a GREAT game!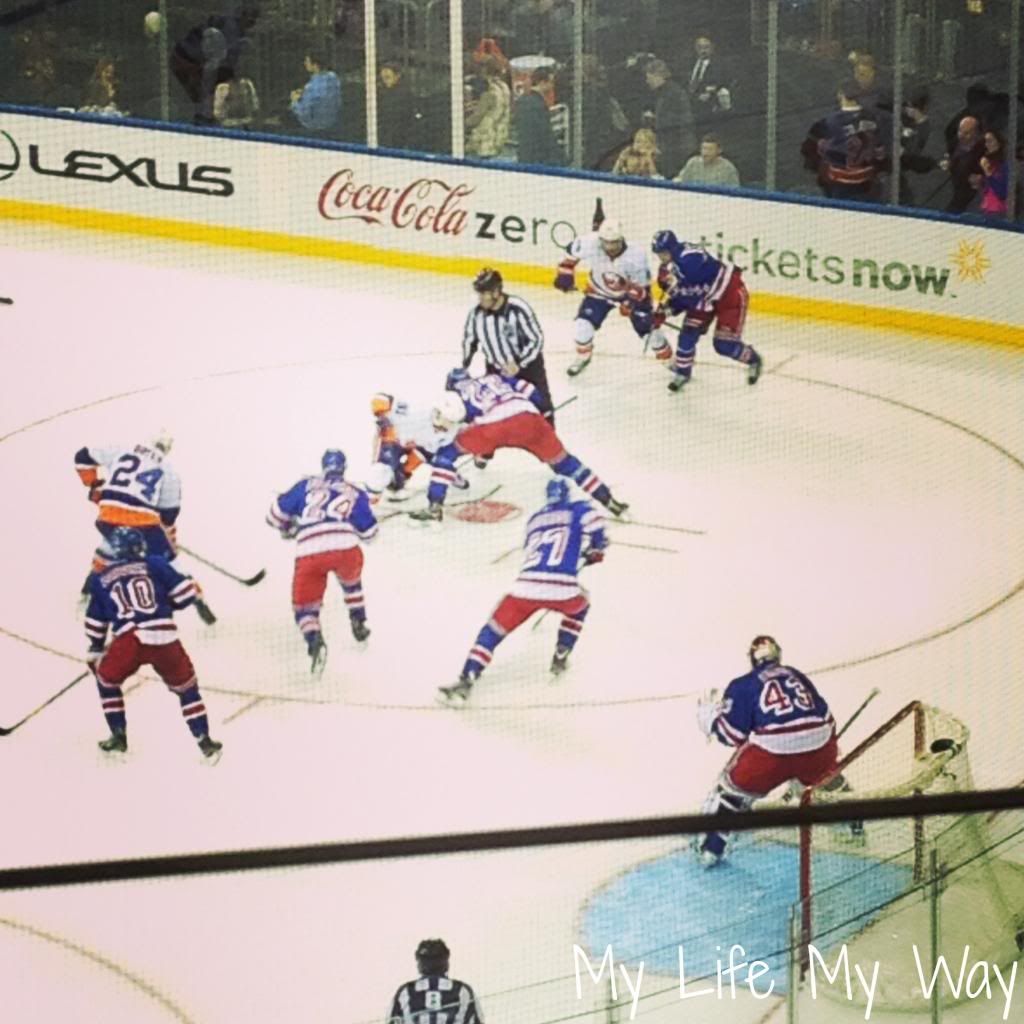 By the end of the 3rd period we were all tied up and we went into overtime. After overtime was over we were STILL tied and into the shoot out we went.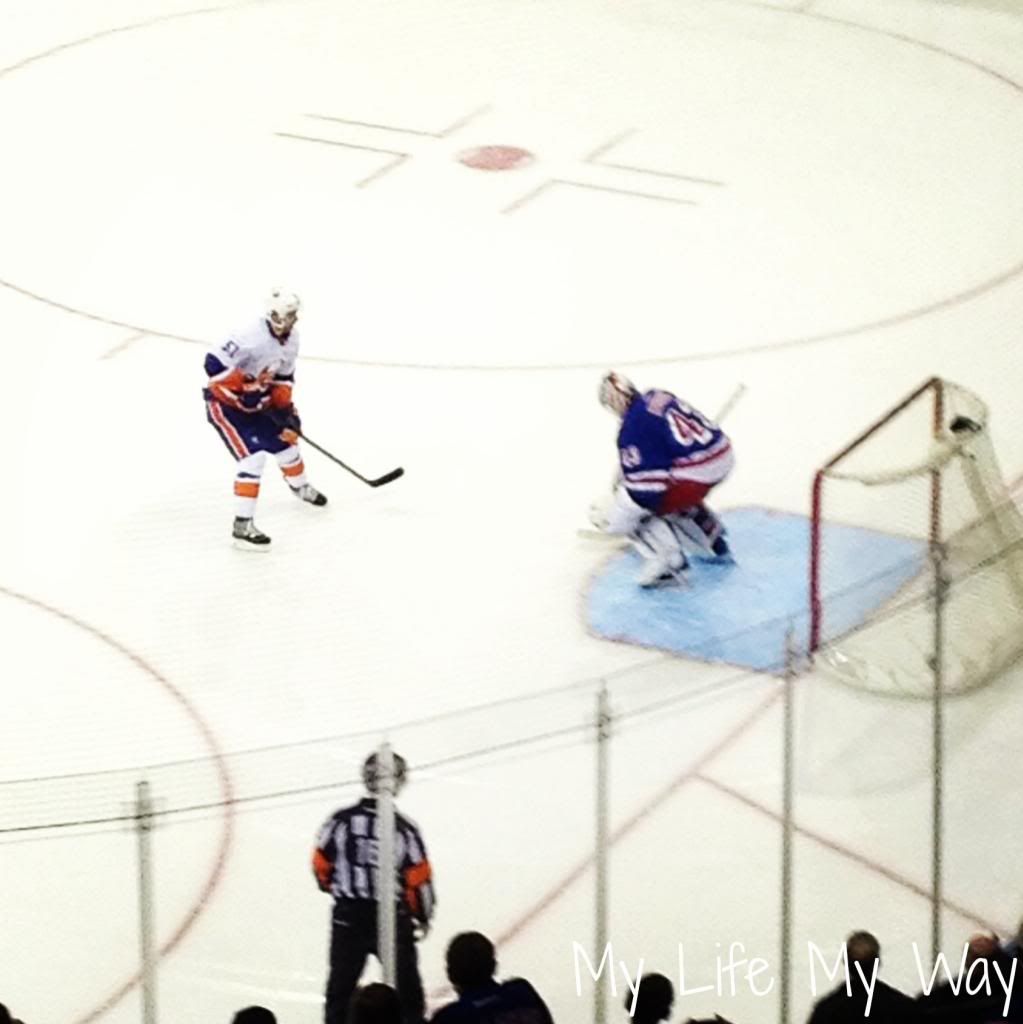 Sadly enough the Rangers lost in the shoot out.
BUMMER!
Overall we had a great Valentines Day and I wouldn't have asked for anything to have changed.