Happy Monday Friends!
How was everyones weekend?
Mine was good.
Today I have a treat for you. I want to introduce you to someone. Someone who has been floating around these here parts for a few weeks. Today I want to formally introduce you to Mr. Big Truck.
Isn't he cute?
Granted, I may be bias.
His eyes…yeah stunning!
Anyway so now that ya'll meet lemme tell you something this boy is AMAZING! Seriously he is awesome. He has saved my butt a few times –remember the whole hot water hater incident– and is so sweet. He has helped me around my house doing little odds and ends, he has a awesome sense of humor, can roll with the punches and is very down to earth, not to mention the boy can cook! Although he was born and raised Jersey you would think he is from the south between his accent and his manners not to mention his love for country music.MELT MY FREAKING HEART! 
This past weekend Mike and I did some random stuff around my house. I used to have dish TV and when I got my roof done the roofers took the dish down because it was not in use anymore. Well they left all the wires on the house and the dish attached to the wires on the side of the house. Mike decided that he needed to take that stuff off for me. He whipped out his wire cutters and ladder and went to work. 
We also hung up some pictures in the house. 
The pictures on the far right of the picture used to be over the couch. We moved them and hung the square peg over the couch.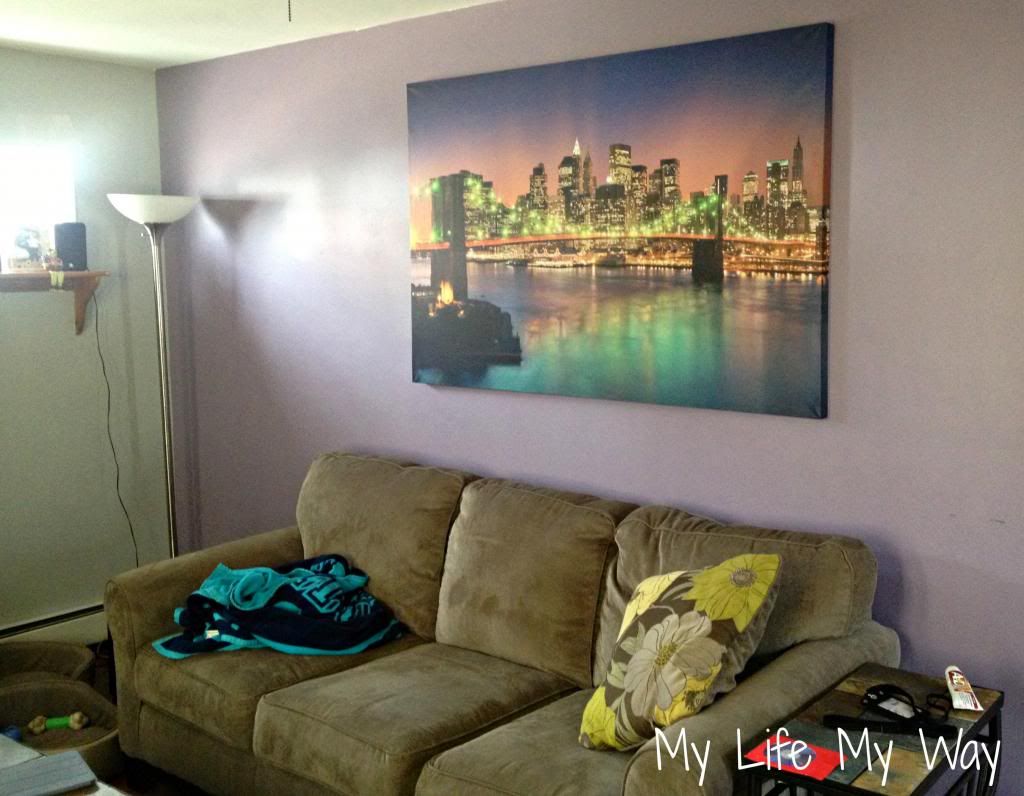 I LOVE the way everything looks now!
Saturday night Mr. Big Truck made us dinner. I know I know jack pot ladies let me tell you! Not only did he make dinner but he mad a healthy dinner because he is totally health conscience which is awesome in my book!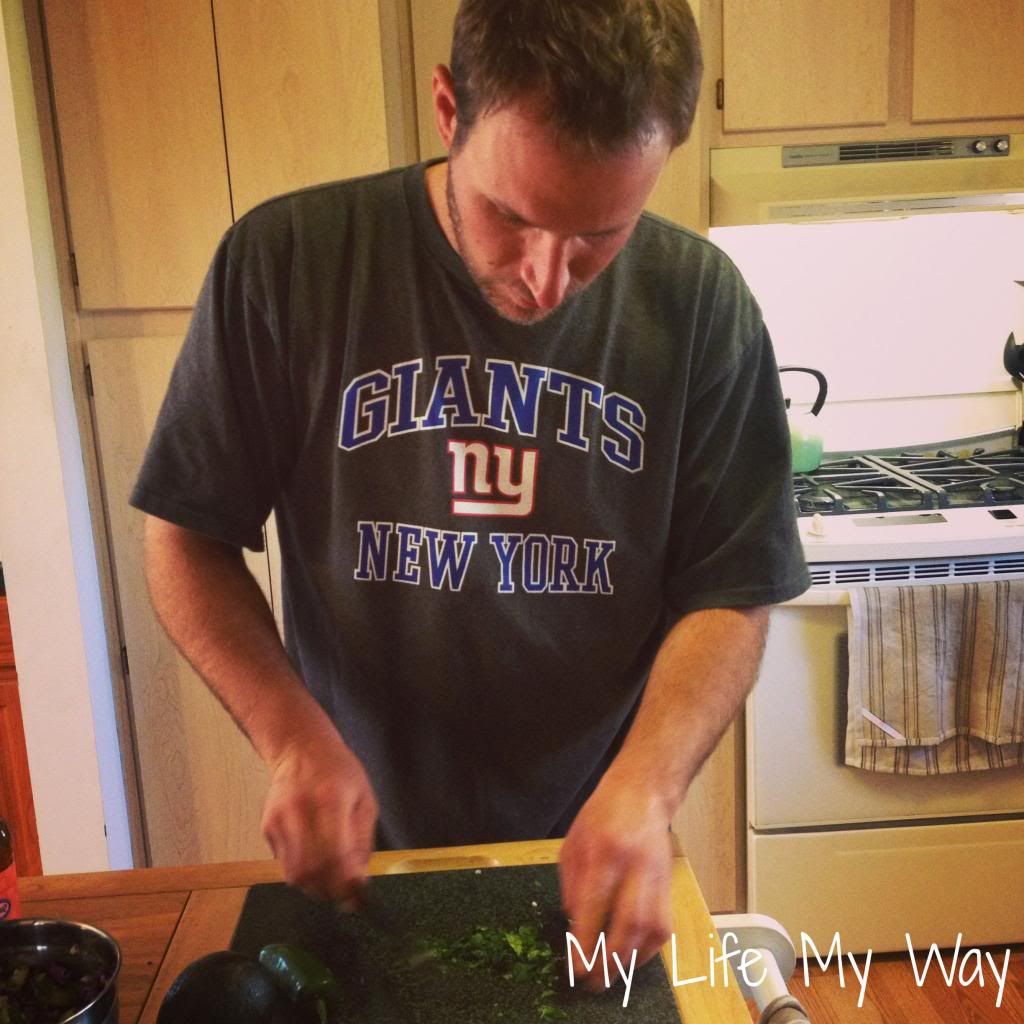 A man in the kitchen is awesome sauce if you ask me! 
Homemade mango salsa and bass! 
I asked him if I could share the mango salsa recipe because I know you crazy people are gonna ask for it. 
1/2 small red cabbage chopped
1/2 red onion chopped
1 jalapeno chopped with or without seeds 
1 avocado chopped 
1 mango chopped
splash of apple cider vinegar. 
Throw everything in a bowl and mix! 
So simple and so tasty!
The longer it sits the better it tastes! 
Sunday I had to teach in the morning and then I was meeting up with Katie for her tapping. After that I ran home showered and decided to meet up with Raymond for dinner. Mom is outta town and I didn't want him eating alone all weekend. Earlier in the day Mr. Big Truck pointed out a ding in my truck and I showed it to Ray and Ray being Ray needed to fix it. 
I love this guy!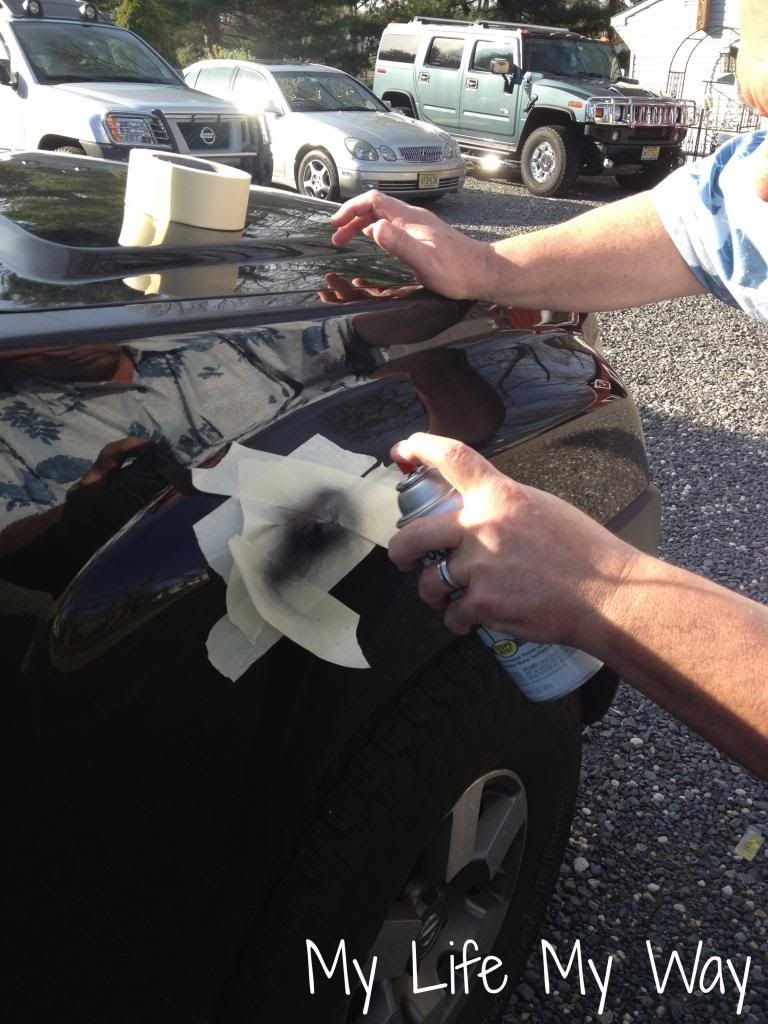 Ding fixed! 
At least till I can get it professionally done.
Overall it was a great weekend and one I wouldn't change for anything.