Guys I am so freaking excited!
WHY?
LAKE DAYS ARE BACK! 
Thats right friends!
Dad and Molly are back from Florida and that means Lake Days will and have commenced once again!
This past weekend was the start of them for this summer!
Dad's birthday just passed and it was a milestone birthday.
Old man just turned 70!
This weekend we all decended on the lake to celebrate! Granted the weather was not the best but we made the best of it and had a blast!
I kinda went picture happy so I  made some collages for you!
First and foremost we celebrated dads birthday!
Mr. Big Truck got roped into playing cards with my niece and nephew.
Pops entered the cell phone world.
Cake because no birthday celebration is complete with out cake!
Most of the day we all just hung out and talked and enjoyed each others company. We also played outside even though it was misty and damp out.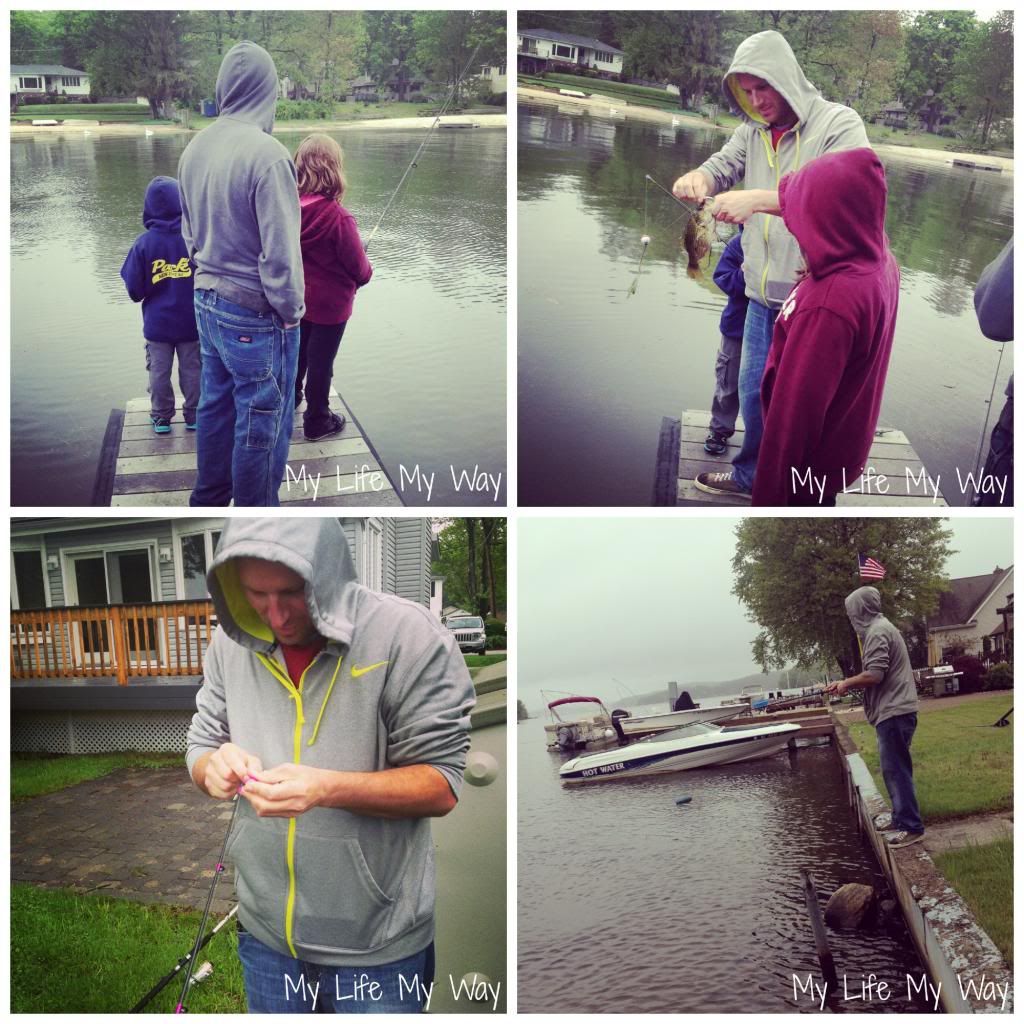 My niece and nephew love to fish at the lake when they are there. I peronally love catching the pictures of my brother and his kids like the top left picture.
Nicholas caught a fish and Mr. Big Truck helped him get it off the hook.
I decided I wanted to get in on the action so Mr. Big Truck set up my pole for me.
Of course Mr. Big Truck needed to get a line wet himself.
Other weekend happenings?
Oh ya know I baught a Kayak!
Isn't she pretty!
Ok so back story really quick. I have always wanted a kayak but never had anyone to go kayaking with so I never persued it. Well Mr. Big Truck and I have been talking about how he has one and he likes to go out and I decided now was the time to finally bite the bullet!
Saturday we went to Jersey Paddler to go check some out. I took 2 different kayaks out to test and a combo kayak/stand up paddle board. I was originally set on getting the combo because after going stand up paddle boarding in FL in February I fell in love with that as well. After trying that I came to the conclusion while the idea is awesome it was not for me. I tested out a 12 foot and a 14 foot kayak and wound up going with the 14 footer! To say I am excited is a bit of an undetstatement! I can not wait to get out on the water!
We also stopped at this local fish and tackle shop and Mr. Big Truck did some browsing.
I really thought he was gonna walk outta there with a new pole but he didn't. However he did walk out with not 1 but 2 new lures.
Anther great weekend down!
I can not believe that next weekend is the "Un-Official" Start of Summer but I will tell you this I AM PSYCHED!