So a couple of weeks ago I saw this fun little link up that was starting called Boys Behind the Blog and I knew I needed to have some fun with this one.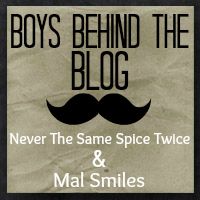 Basically you ask your Boy be it your boyfriend, husband, or fiance the questions and let him answer them. Easy right?
1. Does your wife/girlfriend/fiance use your real name or a nickname on her blog? 
2. If you had a blog, what would the title be? 
A Little Something Something About Mr. Big Truck
I laughed as I typed that. 
3. Do you ever feel ignored by her because of the blog? 
4. How has her blog changed or evolved throughout your relationship? 
It went from all about her to the welcoming of Mr. Big Truck and the Adventures of Mr. Big Truck and no I do not have a name other than Mr. Big Truck.
5. What is your favorite post on her blog?