Here I am sittin at 8 weeks -this was written October 22nd- pregnant and I have to admit sometimes I am still in shock. The realization that I am in fact pregnant has set in however I still have those moments of
"OH CRAP WE ARE PREGNANT!"
Now don't get me wrong in no way shape or form is that a bad thing. Not at all. Actually we are VERY excited and over the moon happy about it. However I will tell you this baby making stuff aint no joke! Seriously I am beyond exhausted! I have NEVER felt so tired in my life as I do right now.
I was thinking about doing the weekly bump date posts but to be honest that's not my cup of tea. To those of you who do it more power to you! However I do have a lot on my mind and I do want to write it all down because lets be honest there is a lot going on!
First of all nausea has set in BUT I have not vomited at all thankfully! I mean I can deal with the nausea but if I were vomiting I think I would loose it. Other than the nausea the only symptoms of pregnancy I have are sore boobs and I get dizzy if I get up to fast. Again all manageable!
As far as working out goes. Honestly I will admit I have not been working out as much as I would like. I like to try to do something every other day however it all depends on how I am feeling on a day to day basis. I picked up
Tracy Anderson The Pregnancy Project
thanks to Alison's suggestion and it is good. I also have been doing BodyPump when I am feeling up to it, and I am taking BodyCombat when I am not exhausted. I am trying to really listen to my body right now because of the flat out exhaustion I have been dealing with.
Mr. Big Truck is beyond excited and I love talking to him about the baby and things we want to do before the baby comes. We are definitely going to find out the gender. We have talked about names granted it is early on but we have a list of boy and girl names we both like. We have settled on the middle name regardless if the baby is a boy or a girl which is exciting. He is also very helpful with things around the house. Although I have to give him credit because he has ALWAYS been helpful.
I can tell he is super excited as well. I mean first of all he has flat out told me he was but just watching him do things like kissing my belly every day totally melts my heart. He has started looking into things we will be needing for the baby. So cute.
We went to our first OB appointment and we found out that at that apt -October 15th- that we were actually 7wks along. We thought that we were 9wks based on when my last period was but after talking to the doctor we realized that since I was on birth control and totally spaced and forgot to pack it when I went to Dallas we are not as far along as we thought. All is well though. We were able to see Baby Big Truck and we even saw the heart beat. SURREAL! Our next appointment is set for November 12th and then we have our first trimester NT scan for the 15th. Moving right along!
We also got our first picture of Baby Big Truck!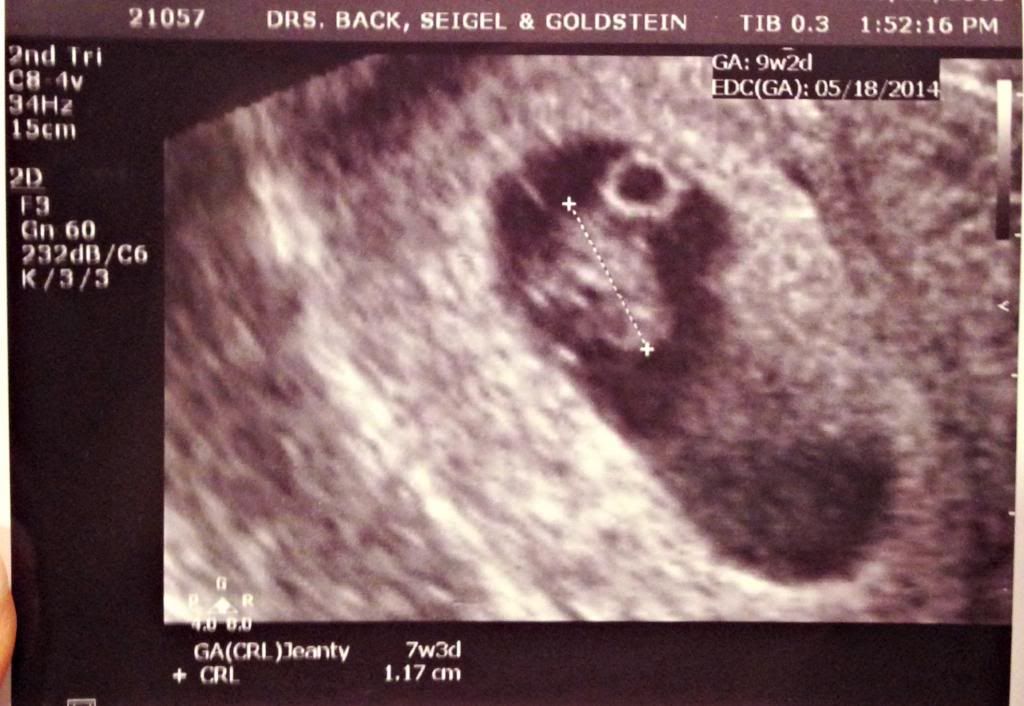 I'm sure it is just a matter of time before I will start needing to get me some maternity clothes so please help a sister out and lemme know where your go to place for maternity wear is. Thankfully I will be pregnant during the winter and wont have to deal with being over heated through the summer.With that I think that is about all I have to share right now. I am sure there will be more to come.