So I have had a few people ask me along the way "How did you and Mr. Big Truck meet?" Well I think it is about time I sit down and tell y'all that story.
Ya see we were in the grocery store and I ran into him literally while he was getting eggs and he dropped them and made a mess. We locked eyes and it was love at first sight!
No no no I'm kidding.
Back in March of 2013 I decided that I would put myself on Plenty of Fish and see what happens.
Online dating? Really? 
Yup! Online dating is what brought Mr. Big Truck and myself together.
See I had gotten to the point that I figured I would put myself out there since I am not a bar scene kinda girl and I had no time to go out places to meet someone and I had given up on my friends trying to introduce me to other singles they knew. I was browsing through profiles of guys in the local area on March 14th and I stumbled across this photo and it made me stop.
I thought to myself this guy is cute! I read his profile and it said he was from the local area and to be honest he was one of the few profiles I stumbled across that did not say he was looking for a hook up. That's what happens when you sign up for a free online dating site. Anyway I looked through some more of his pictures and I liked what I saw and after reading the rest of his profile I thought to myself lemme shoot him a message and see what happens.
Clearly someone likes to be outside!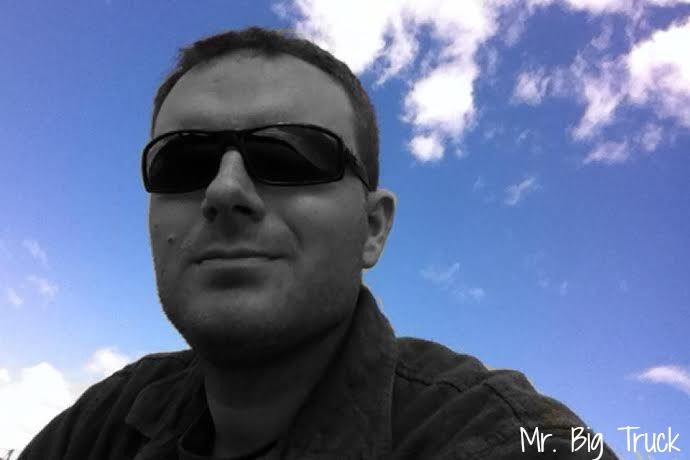 We started exchanging emails through the site and our conversation took off. I am talking long emails back and forth getting to know each other. I felt like he was a decent guy and I thought lemme give him my cell and if he continues to reach out to me this could potentially go somewhere. A short time later all of a sudden I got a text message from some random number. I looked at it and sure enough it was Mr. Big Truck. We continued to talk via text messages back and forth and it just flowed. I am talking no lull in conversation at all. Finally Mr. Big Truck asked me out on a date. He originally wanted to go out March 17, 2013 but I had a Les Mills Quarterly to attend all day and could not make it. I said I could go out the following night March 18th. We set the time for 6pm at Salt Creek Grill.
The 18th rolled around and we meet for what was our first date. Mr. Big Truck was there parked before I was. After I pulled in and parked I texted him to let him know I was there. I quickly got a text message back from him saying "Black Xterra" my immediate thought was wow that was creepy. See apparently I had told him what I drove at some point in our conversation however I do not remember that so when he said that I was a little creeped out but I went in to meet him anyway.
We got our table and it was like we have known each other for years! We shared and appetizer, had dinner and shared a bottle of wine. I got up approximately 19253346 times to pee thanks to the GALLONS of water I drank the day before at the quarterly. At one point during the night I CLEARLY remember him saying to me "Are you calling or texting someone every time you go to the bathroom to let them know you are okay?" I couldn't help but laugh. I told him no not at all and told him that my phone was actually in my purse which was at the table EVERY TIME I got up to go to the bathroom. We still laugh about this to this day.
We wound up staying at the restaurant from 6pm till 11pm when we were the LAST ONES out of the place. Legit closed the place down. We couldn't help but get lost in our conversation and totally lost track of time.
From there I guess you can say that the rest is HISTORY!
And just for fun I thought I would share some more dates that are important to our relationship.
First started talking: March 14, 2013
First Date: March 18, 2013
Introduced Mr. Big Truck
officially here on April 15, 2013
Found out we were
expecting our first child
September 24, 2013
Engaged
: October 12, 2013
Married
: November 21, 2013Clearly our relationship has moved fast but we are both beyond happy and that is all that matters!