Today I wanted to take some time and link up with Kristen over at
Mama & Mou
for Baby Talk. All ya gotta do is link up with a post baby or pregnancy related.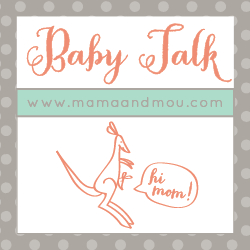 Today I wanted to talk about how we got pregnant.Clearly we got pregnant because of the obvious reason but they story behind it is pretty cute and I thought I would share. I also do not want to forget it not that I think I ever will.
It all started back in August when I went to
Dallas for a week
. I went out for 
AdvoCare
 Success School which was life changing and I also got to spend some time with a family that I used to babysit for. Crazy to think that their oldest Nathan is now 16 and driving! I remember the nights I would sit with the kids and Nathan, Bailey and I would fall asleep on the
HUGE
reclining chair they used to have. Oh the memories!
Anyway I was in the process of getting myself ready and packing and making lists upon lists of things I didn't want to forget. Business casual clothes, workout clothes, lake clothes, regular clothes, makeup, flip flops, flats, AdvoCare Binder,
Spark
,
Meal Replacement Shakes
ect. So many things I needed to and wanted to remember. The one thing I did not remember to pack, but should of remembered and for some unknown reason did
NOT
put on my list, my birth control. When did I realize this? The first night I was in Dallas and went to take it. My phone alarm went off as it would every night at 7pm and I went to get my pills stopped dead in my tracks and thought to myself
CRAP how did I forget to pack that of all things?!? Good job Nikki. Good job!
I went about the week and didn't think twice about it after that. I figured no big deal I would just jump back on it in September and all would be fine. Little did I know the big Man upstairs had something TOTALLY different in mind for us. Well played God, well played. Lesson learned.
When I got back from Dallas I told Mr. Big Truck about how I forgot to pack my birth control and that I would be back on it in September. He said okay and neither one of us thought twice about it again.
Apparently when you mix Mr. Big Truck with some Fireball, good company, a little Luke Bryan booty shake and me you have the perfect baby making concoction. Fast forward to September 24, 2013 and I realized I had not gotten my period so I decided lemme just pee on a stick just in case. That day our world was literally shaken upside down and we couldn't be any happier.
I will forever be thankful to Luke Bryan and his booty shake for this. Of course I will be forever thankful for Mr. Big Truck and his booty shake even more.
Granted keeping the "secret" from Mr. Big Truck all day was no easy task. You can read about how I told him we were expecting
HERE
.So there ya have it the story of how we got pregnant minus the gory details if ya know what I mean!