Guess what time it is friends?
Boys Behind The Blog time!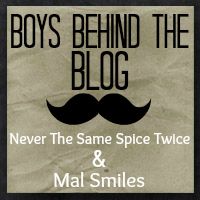 1. If you could live anywhere, where would you live? Someplace warm year round. 

2. Sand or snow? Sand. I like to feel the sand between my toes. 

3. What Winter Olympic sport would you rock? All because I'm awesome.
4. You're cooking a romantic dinner -what's your go-to dish? Honestly I'm not sure.  There are a few in mind but I won't say what they are.   I need and want to keep that confidential. I won't give away any of my romantic secrets
5. Fill in the blank: This year, I gave my wife a                                  for Valentine's Day. When I first asked him to fill out all the questions Valentine's Day had not yet come. Now that Valentine's Day is over I can fill in the blank. Mr. Big Truck got me a sweet personalized canvas print that says Always Kiss Me Goodnight.