Hey Friends!
It's that time of the month! No not THAT time but Boys Behind the Blog time!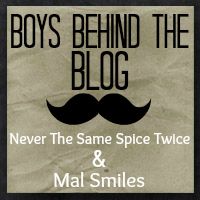 So here we go…
1. What's your lucky number?
I actually don't have one. There are numbers I like, like 15-21-22-17-2-4-25
2. Do you have a lucky charm?
That I do not. I did have lucky boxers but someone made me throw them away since they were ripped and torn. For the record he never told me that they were lucky had I known that I wouldn't have strongly suggested that he get rid of them and replace them. 
3. Do you fill out a bracket for March Madness? Who do you want to win?
I never watched March Madness and I am not about to start. If I had to pick a team I would go with NC.
4. March 10th is "Middle Name Pride Day." What is your middle name?
It's Joseph
5. Submit one question that you would like to see on a future Boys Behind the Blog.
What makes you the man you are today?
And for good measure I will leave you with a picture of my man rocking out some pink! Good thing because I see LOTS of PINK in his future!